Ducati Diavel Service Manual: Refitting the oil pump
If removed, apply specific threadlocker on the bushing (7) outer thread, and screw it in the crankcase half, observing the height.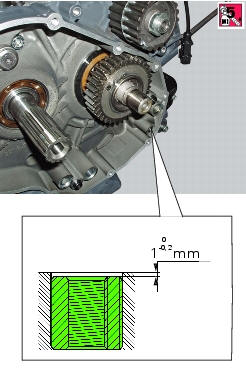 Position the reference bushings (15) and the oil sealing o-rings (2) and (4) according to the crankcase lubrication channels.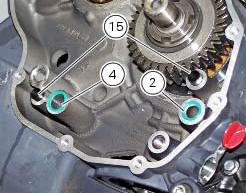 Position the oil pump on the crankcase and tighten screws (9) to a torque of 26 nm (min. 23 Nm - max. 29 Nm) and the screw (10) to a torque of 10 nm (min. 9 Nm - max. 11 Nm) (sect. 3 - 3, Engine torque settings).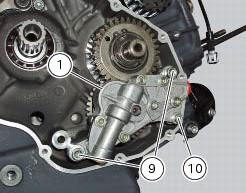 Check the gear clearance with the driving pinion by fixing a dial gauge (a), equipped with the appropriate traces, to the crankcase half.
Position the dial gauge stylus on one tooth of oil pump gear and set the gauge to zero in this position.
Move the gear slightly to measure the backlash; take four readings in diametrically opposed positions of the gear.
The clearance should be 0.10 Mm.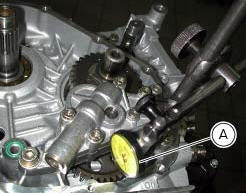 Check that the circlip (3) and tongue (13) are present on the pump. Fit the pump drive gear (12) on to the oil pump and secure it by installing the circlip (6) in its groove. Insert the by-p ...
Oil cooler Vibration damper mount Spacer Screw Nipple Aluminium gasket Oil delivery hose Screw Plate Bracket Screw Engine oil pressure sensor Sealing washer Heat guard ...
Other materials:
Parking
Park the stopped motorcycle on the side stand. Turn the handle completely to the left or right. If this operation is performed within 60 seconds after the engine stop, the message "waiting for lock" (fig. 120) Will appear on the display of the instrument panel for approx. 5 Seco ...
Refitting the evaporative emissions canister
To refit, carry out the removal operations in reverse order, making sure to locate the hoses as shown in the figures at the end of the chapter. Positioning the hoses / clamps and canister filter ...
Refitting the flywheel-alternator assembly
Fit the roller cage unit (20) with washer (18) and internal ring (19), applying prescribed grease on the washer (18). Install the roller cage assembly (20) with the washer (18) and inner race (19). Install the flywheel assembly (v) with the gear (21), aligning the notches as shown in ...