Ducati Diavel Service Manual: Refitting the oil pump
If removed, apply specific threadlocker on the bushing (7) outer thread, and screw it in the crankcase half, observing the height.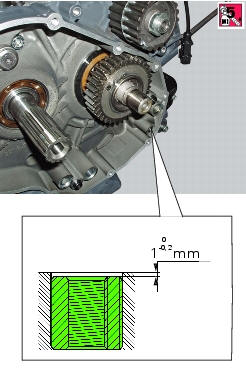 Position the reference bushings (15) and the oil sealing o-rings (2) and (4) according to the crankcase lubrication channels.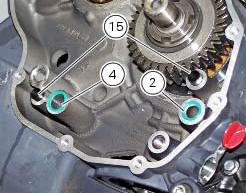 Position the oil pump on the crankcase and tighten screws (9) to a torque of 26 nm (min. 23 Nm - max. 29 Nm) and the screw (10) to a torque of 10 nm (min. 9 Nm - max. 11 Nm) (sect. 3 - 3, Engine torque settings).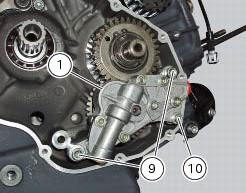 Check the gear clearance with the driving pinion by fixing a dial gauge (a), equipped with the appropriate traces, to the crankcase half.
Position the dial gauge stylus on one tooth of oil pump gear and set the gauge to zero in this position.
Move the gear slightly to measure the backlash; take four readings in diametrically opposed positions of the gear.
The clearance should be 0.10 Mm.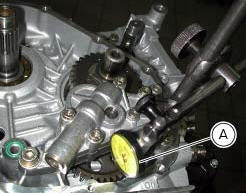 Check that the circlip (3) and tongue (13) are present on the pump. Fit the pump drive gear (12) on to the oil pump and secure it by installing the circlip (6) in its groove. Insert the by-p ...
Oil cooler Vibration damper mount Spacer Screw Nipple Aluminium gasket Oil delivery hose Screw Plate Bracket Screw Engine oil pressure sensor Sealing washer Heat guard ...
Other materials:
Refitting the handlebar
Position the handlebar (4) so that the external lower corner of the marks (a) on the handlebar matches the upper internal corner of the lower u-bolts (b) as shown. Apply the recommended grease to the threads and undersides of the heads of the screws (3). Important Position the upper u-bo ...
Refitting the front mudguard
Warning Do not use the motorcycle without the front mudguard fitted to avoid the risk of the brake pipes fouling the wheel on braking. Insert the screws (5) in spacers (6) with recommended threadlocker, as shown in the figure. Position the front mudguard (1) and start the special screws (5 ...
How to turn the motorcycle off
To turn the motorcycle off, turn the switch from "run on" to "run off". The engine stops. To switch the dashboard off, push the on/off switch downwards. When released, the switch automatically returns to the "run off" position. Push the switch downwards to switch the engine off and enter " ...