Ducati Diavel Service Manual: Removal of the gearbox assembly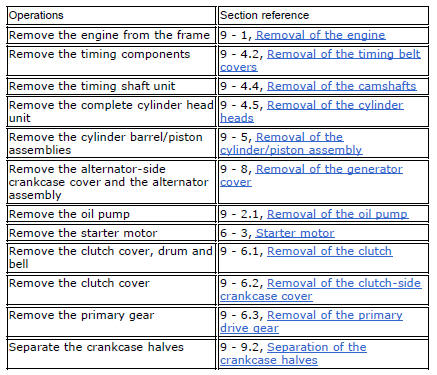 Withdraw the selector fork shafts (30).
Move the forks (28) and (29) to disengage them from the slots in the selector drum (14).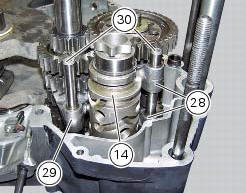 Withdraw the selector drum (16) taking care not to lose shims (31) and (27) mounted on the shaft. Note that the positions of the shims must not be inverted.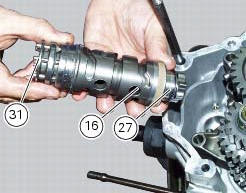 Once removed, it is possible to replace the special rollers (13).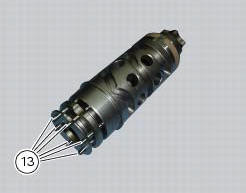 Remove gear selector forks (29) and (28).
Remove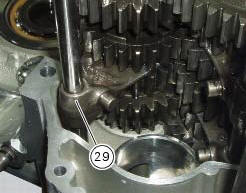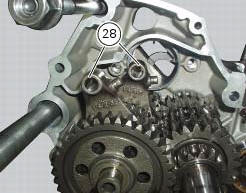 Remove the gearbox primary (2) and secondary (25) shafts complete with gears, taking care to recover the spacers on the ends of the shafts.
If the bearing inner rings (a) are left on the shafts, slide them off the ends of the gearbox primary (2) and secondary (25) shafts (sect. 9 - 9.2, Separation of the crankcase halves).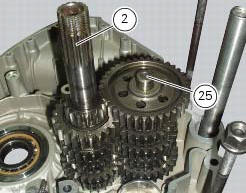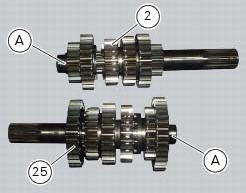 Shim, thickness 1 Gearbox primary shaft Shim, thickness 0.5 Needle roller bearing 5Th speed driving gear Splined washer, thickness 0.5 Circlip 3Rd- 4th speed driving gear 6Th sp ...
Place the shaft in a vice in such a way as to facilitate the disassembly operations. Important Take care not to invert the positions of the shims on reassembly: this would potentially lead to jam ...
Other materials:
Checking the battery charging system
To check the current flow of the recharging circuit, use the "dds" diagnosis instrument, which is equipped with an inductive clamp-type amperemeter: refer to chapter "testing the battery charging system", sect. 6 - 11 With the dds diagnosis instrument you can determine the engine rpm required ...
Injectors
Introduction The injectors used on the diavel are top feed units, meaning that fuel is fed into the top of the injector itself. The injectors contain a winding which raises a needle when electrically energised. This opens the atomiser nozzle, through which pressurised fuel is dispensed, gener ...
High beam lights not working
Fault codes The hi beam light on the (slave) dashboard flashes at 1hz frequency. Wiring diagram Location of elements on motorcycle (A) injection relay; (b) etv relay (throttle valve operating engine); (c) radiator fan relay; (d) hands free relay. Fuses located at the rear left of the ...