Ducati Diavel Service Manual: Removal of the gearbox assembly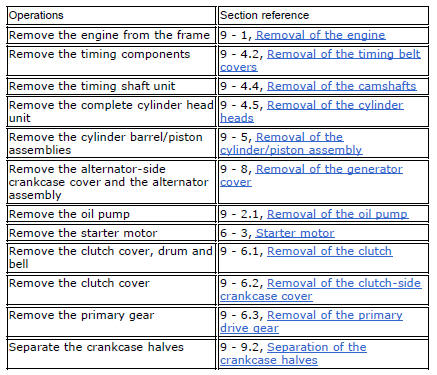 Withdraw the selector fork shafts (30).
Move the forks (28) and (29) to disengage them from the slots in the selector drum (14).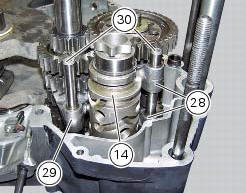 Withdraw the selector drum (16) taking care not to lose shims (31) and (27) mounted on the shaft. Note that the positions of the shims must not be inverted.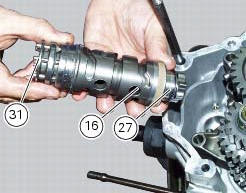 Once removed, it is possible to replace the special rollers (13).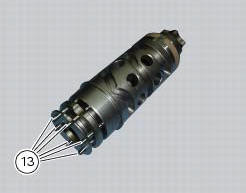 Remove gear selector forks (29) and (28).
Remove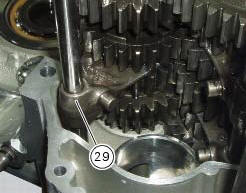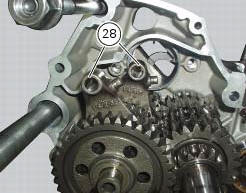 Remove the gearbox primary (2) and secondary (25) shafts complete with gears, taking care to recover the spacers on the ends of the shafts.
If the bearing inner rings (a) are left on the shafts, slide them off the ends of the gearbox primary (2) and secondary (25) shafts (sect. 9 - 9.2, Separation of the crankcase halves).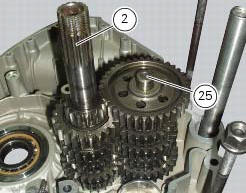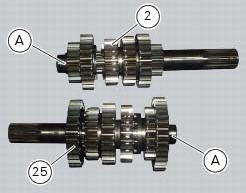 Shim, thickness 1 Gearbox primary shaft Shim, thickness 0.5 Needle roller bearing 5Th speed driving gear Splined washer, thickness 0.5 Circlip 3Rd- 4th speed driving gear 6Th sp ...
Place the shaft in a vice in such a way as to facilitate the disassembly operations. Important Take care not to invert the positions of the shims on reassembly: this would potentially lead to jam ...
Other materials:
Gearchange mechanism
Return spring Washer Special screw Gear pawl assembly Interlock plunger holder Sealing washer Detent ball spring Ball Circlip Selector claw return spring Shim washer Ring Nut Selector drum control fork Gearchange lever pin Shaft with gearchange lever arm Gearch ...
How to switch the dashboard on
The dashboard may switched on either from the on/off switch on the handlebar or from the button on the hands free system. With the engine off, the on/off switch is turned to "run off". With the motorcycle and dashboard off, the on/off switch is turned to "run off". To switch the dash ...
Refitting the front forks
Refit the fork legs, positioning them at the height shown in the figure relative to the upper surface of the bottom yoke. Warning The difference in height between the two fork legs must be no greater than 0.1 Mm. Position the fork legs (5) and (6) on the yoke base (4) and on the steering ...