Ducati Diavel Service Manual: Refitting the timing gears
Before reassembling the removed parts, check timing gears (13) for wear. Change, if necessary.
Important
The timing gears (13) must always be renewed as a pair.
Refitting is the reverse of removal.
Warning
When introducing the driven gear (b) check that the tongue (15) is correctly fitted on the timing system shaft, align the gear slot with the tongue matching the driving gear timing mark (a) with the gear (b).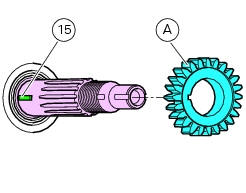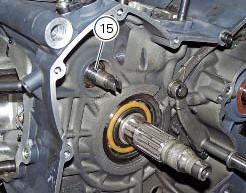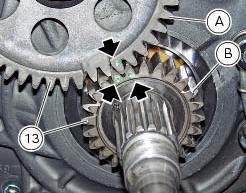 Important
On completion of the refitting operations, check that tab washer (12) is staked against nut (11) in such a way as to prevent the nut from working loose.


Slide out driving gear (a) of timing gear pair (13) and remove the woodruff key (14). Relieve the staking on the lock washer (12) of the nut (11). Restrain the driven timing gear by ...
Slide the gear pin (21) complete with the gear (19) and washer (20). Warning Pay attention to the washer (20) since it may fall inside the crankcase half. At this point, it is possibl ...
Other materials:
Steering head: steering
Screw Steering head Screw Lower rh u-bolt Lower lh u-bolt Bearing Screw Sealing ring Washer Spacer Washer Nut Washer Screw Bottom yoke Dowel Nut Screw Special screw Clip nut Left-hand support Front splashguard Right-hand support Front support S ...
Disassembly of the gearchange mechanism
Refer to the exploded view at the beginning of this section for indications on disassembly and renewal of gearchange components. If the bushing (2) inside the pedal (1) needs replacing, grease the external surface and drive the new bushing into place using a press. The bushing must be seate ...
Reassembly of the gearbox
To refit the gearbox components follow the procedure under sect. 9 - 9.2, Reassembly of the crankcase halves, relating to reassembly of the engine crankcase. As a final practical test, ensure that with the gearbox in neutral the front coupling dogs (a) of sliding gears (b) are equidistant o ...