Ducati Diavel Service Manual: Refitting the timing gears
Before reassembling the removed parts, check timing gears (13) for wear. Change, if necessary.
Important
The timing gears (13) must always be renewed as a pair.
Refitting is the reverse of removal.
Warning
When introducing the driven gear (b) check that the tongue (15) is correctly fitted on the timing system shaft, align the gear slot with the tongue matching the driving gear timing mark (a) with the gear (b).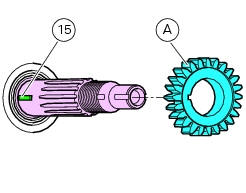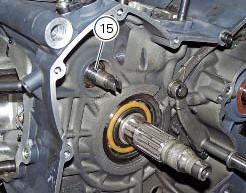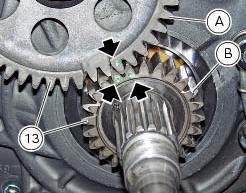 Important
On completion of the refitting operations, check that tab washer (12) is staked against nut (11) in such a way as to prevent the nut from working loose.


Slide out driving gear (a) of timing gear pair (13) and remove the woodruff key (14). Relieve the staking on the lock washer (12) of the nut (11). Restrain the driven timing gear by ...
Slide the gear pin (21) complete with the gear (19) and washer (20). Warning Pay attention to the washer (20) since it may fall inside the crankcase half. At this point, it is possibl ...
Other materials:
Removing of the side stand
Disconnect connector (a) of the stand switch (2) from the main wiring. Loosen the screws (3), (10), (11) and (12) securing the stand bracket (4) to the engine and remove the complete side stand assembly. Disassembly of the side stand Undo the fixing screw (5) and remove the sid ...
Inspection of the gear selector forks
Visually inspect the gear selector forks. Bent forks must be renewed as they may lead to difficulties in gear changing or may suddenly disengage when under load. Use a feeler gauge to check the clearance of each fork in its gear groove. If the service limit has been exceeded, check whether ...
Description of the clutch assembly
The clutch is disengaged by a drive unit consisting of a thrust piston (c) accommodated inside a small cap mounted to the generator cover. This piston (c) pushes a pushrod (b), which runs through gearbox primary shaft and operates the Pressure plate (4) located on top of the clutch plate pack ...