Ducati Diavel Service Manual: Removing the timing belt driveshaft pulleys
Use the tool code 88713.1805 To hold the driving pulley on the engine crankcase against rotation.
Important
If this operation is carried out with the engine installed in the frame, hold the driveshaft pulleys against rotation using the tool code 88713.2011 Mounted on the alternator cover.
Loosen the nut (15) using the socket supplied with the service tool.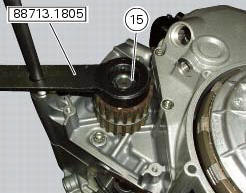 Remove the nut (15), the spacer (20) and the outer pulley (18).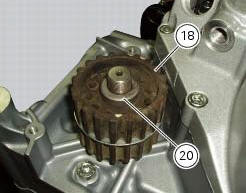 Remove the first woodruff key (16) from the timing belt driveshaft.
Remove the intermediate spacer (19) and the inner pulley (18).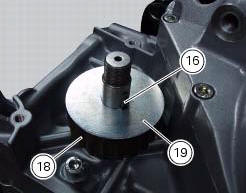 Remove the inner spacer (17) and second woodruff key (16) on the timing belt driveshaft.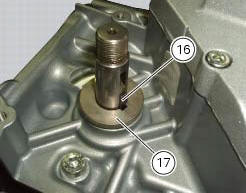 It is now possible to remove the circlip (10) on the driveshaft.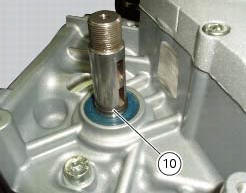 Unscrew and remove the screws (22). Slide off the washer (23). Withdraw the camshaft pulley (11) from the spacer flange (24). ...
To fit the circlip (10) in the driveshaft seat, use the tool code 88713.2834. Install the inner spacer (17) on the driveshaft, taking care to align the notch in the spacer with the slot for the ...
Other materials:
Check the engine oil pressure
Note The on-screen icons used during this procedure are explained in a table at the end of this section. To measure the pressure of the lubrication circuit, use the engine oil pressure test point (19) as described below. Disconnect the wiring connector (f) of pressure switch (1) and rem ...
Reassembly of belly fairing
Position the oil cooler shield (7) inserting the tab (a) into the slit (b) in the electrical components support (s). Note On refitting, make sure that the tab (c) remains positioned under the retainers (d) of the shield (7). Fit clips (11) on bracket (13) and orient them as shown in the f ...
Removing outer components
Note The following removal operations are required in order to renew and/or clean the crankcase halves. If the original crankcase halves are to be reused, then the removal of these components is not essential. Unscrew the screw (17) and remove the oil breather valve (1) with the o-rings ...