Ducati Diavel Service Manual: Removing the timing belt driveshaft pulleys
Use the tool code 88713.1805 To hold the driving pulley on the engine crankcase against rotation.
Important
If this operation is carried out with the engine installed in the frame, hold the driveshaft pulleys against rotation using the tool code 88713.2011 Mounted on the alternator cover.
Loosen the nut (15) using the socket supplied with the service tool.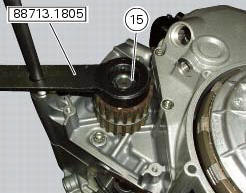 Remove the nut (15), the spacer (20) and the outer pulley (18).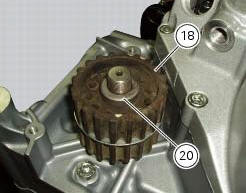 Remove the first woodruff key (16) from the timing belt driveshaft.
Remove the intermediate spacer (19) and the inner pulley (18).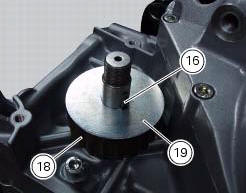 Remove the inner spacer (17) and second woodruff key (16) on the timing belt driveshaft.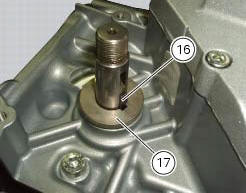 It is now possible to remove the circlip (10) on the driveshaft.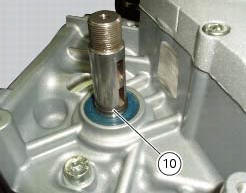 Unscrew and remove the screws (22). Slide off the washer (23). Withdraw the camshaft pulley (11) from the spacer flange (24). ...
To fit the circlip (10) in the driveshaft seat, use the tool code 88713.2834. Install the inner spacer (17) on the driveshaft, taking care to align the notch in the spacer with the slot for the ...
Other materials:
Refitting the intake manifold and coolant union
Apply prescribed threadlocker to the fitting (12), start it with seal (24) and tighten it to a torque of 2.5 Nm (min. 2 Nm - max. 3 Nm) (sect. 3 - 3, Frame torque settings). Install the pipe (b) and tighten the clamp (a) to the torque of 1 nm +/- 10% (sect. 3 - 3, Engine torque settings). ...
Removal of the gearbox assembly
Withdraw the selector fork shafts (30). Move the forks (28) and (29) to disengage them from the slots in the selector drum (14). Withdraw the selector drum (16) taking care not to lose shims (31) and (27) mounted on the shaft. Note that the positions of the shims must not be inverte ...
Key to wiring diagram
Right-hand handlebar switch Immobilizer Hands free relay Hands free Front fuse box Right fan Left fan Fan relay Fuel pump relay Ride-by-wire relay (etv) Injection control unit (ems) Rear fuse box Data acquisition/diagnosis Starter motor Fused solenoid Battery Wirin ...