Ducati Diavel Service Manual: Removing the timing belt driveshaft pulleys
Use the tool code 88713.1805 To hold the driving pulley on the engine crankcase against rotation.
Important
If this operation is carried out with the engine installed in the frame, hold the driveshaft pulleys against rotation using the tool code 88713.2011 Mounted on the alternator cover.
Loosen the nut (15) using the socket supplied with the service tool.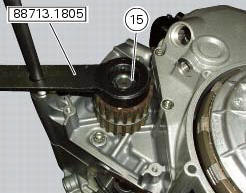 Remove the nut (15), the spacer (20) and the outer pulley (18).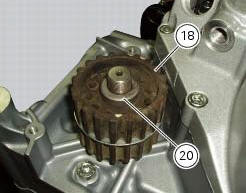 Remove the first woodruff key (16) from the timing belt driveshaft.
Remove the intermediate spacer (19) and the inner pulley (18).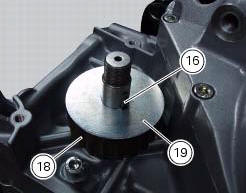 Remove the inner spacer (17) and second woodruff key (16) on the timing belt driveshaft.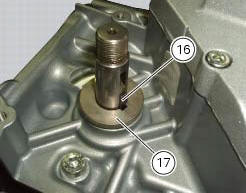 It is now possible to remove the circlip (10) on the driveshaft.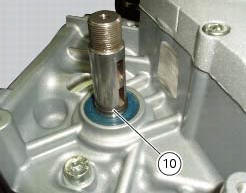 Unscrew and remove the screws (22). Slide off the washer (23). Withdraw the camshaft pulley (11) from the spacer flange (24). ...
To fit the circlip (10) in the driveshaft seat, use the tool code 88713.2834. Install the inner spacer (17) on the driveshaft, taking care to align the notch in the spacer with the slot for the ...
Other materials:
Low battery level
The activation of this (amber yellow) "warning" indicates that the status of the battery vehicle is low. It is activated when the battery voltage is ¼ 11.0 Volt. Note In this case, ducati recommends charging the battery as soon as possible with the specific device, as it is possible th ...
Removing of the side stand
Disconnect connector (a) of the stand switch (2) from the main wiring. Loosen the screws (3), (10), (11) and (12) securing the stand bracket (4) to the engine and remove the complete side stand assembly. Disassembly of the side stand Undo the fixing screw (5) and remove the sid ...
Stored lap erase function
This function erases the stored laps. To access the function it is necessary to view the "setting" menu", using buttons (1) "s" or (2) "t" select the "lap" function and press the reset button (3) to enter the following page. Use button (1) "s" or (2) "t" to select "lap data" indication and ...