Ducati Diavel Service Manual: Removal of the timing gears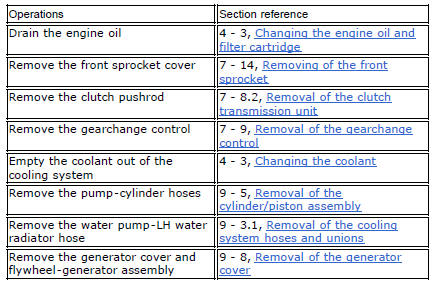 Slide out driving gear (a) of timing gear pair (13) and remove the woodruff key (14).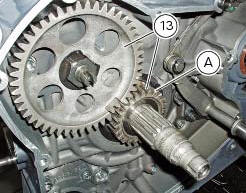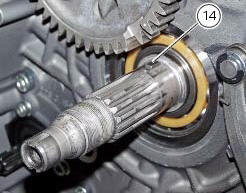 Relieve the staking on the lock washer (12) of the nut (11).
Restrain the driven timing gear by inserting a pin in one of the holes, and unscrew the nut (11).
Remove the nut (11), washer (12), driven timing gear (b) and woodruff key (15) from the timing belt driveshaft shaft.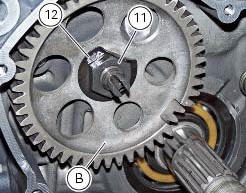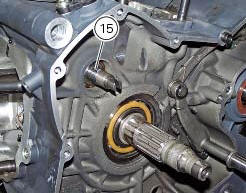 Fit the cap (39) on spring (38) until it engages. Mount ball (40), spring (38) with cap (39), washer (37) and screw (36) on the chain side half-casing by starting the screw into hole (f). Note ...
Before reassembling the removed parts, check timing gears (13) for wear. Change, if necessary. Important The timing gears (13) must always be renewed as a pair. Refitting is the reverse of remova ...
Other materials:
Refitting the exhaust system
Refit the heat guard on the manifold (10) by tightening the nuts (9) to a torque of 10 nm +/- 10% (sect. 3 - 3, Frame torque settings). Position the vertical exhaust manifold (22) on the vertical cylinder head with the gasket (23). Tighten the fixing nuts (21) to a torque of 10 nm +/- 1 ...
Refitting the primary drive gears and checking backlash
Fully degrease the crankshaft splined end and the corresponding spline on the primary drive gear. Position the spacer (c) onto the crankshaft. Fit the driving gear (b) onto the crankshaft with the oil pump drive sprocket facing the crankcase. Temporarily secure the gear with the was ...
Adjusting the clutch lever and front brake lever
The clutch lever (1) is fitted with a span adjuster (2) which serves to alter the distance of the lever from the handlebar. The lever distance can be adjusted through 10 clicks of the dial (2). Turn clockwise to increase lever distance. Turn the adjuster counter clockwise to decrease lever d ...