Ducati Diavel Service Manual: Removal of the gearchange control
Loosen and remove the pivot screw (4) securing the gearchange pedal (1) and recover the washer (9) and the o-ring Seals (5).
Loosen and remove the screw (7) securing the gearchange lever (8) to the gear selector shaft.
Withdraw the lever (8) complete with the gearchange control assembly.
Note
Mark the position of lever (8) relative to the gear selector shaft.
To remove the lever (8) from the gearchange assembly, remove the screw (10) and slide the lever (8) out.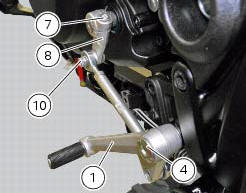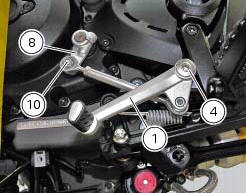 Gearchange pedal Bush Rubber pad Pin O-ring Gearchange lever tie-rod Screw Gearchange lever Washer Screw Ball joint Nut Nut Nut with left-hand thread Lh ball joint ...
Refer to the exploded view at the beginning of this section for indications on disassembly and renewal of gearchange components. If the bushing (2) inside the pedal (1) needs replacing, grease t ...
Other materials:
Adjusting the rear shock absorber
The rear shock absorber has external commands that enable you to adjust the setting to suit the load on the motorcycle. The adjuster (1, fig. 111) Located on the lower connection holding the shock absorber to the swingarm adjusts the damping during the rebound phase (return). The knob (2, f ...
Adjusting the position of the gear change and rear brake pedals
The position of the gear change and rear brake pedals in relation to the footrests can be adjusted to suit the preferred riding position. To modify the gear change pedal position act in the following mode: hold the linkage (1) and slacken the counter nuts (2) and (3). Note Nut (2) has a lef ...
How to reset the pin code
The pin code can be reset with the dds, i.E. It can be brought to the same condition it was in when the bike came out the factory. It is possible to complete the procedure with the relevant pin code reset function. Once the pin code has been reset it will be necessary to store a new one. In ...