Ducati Diavel Service Manual: Removal of the lubrication system

Disconnect the sensor (12) of the main wiring.
Open the pipe grommet (11).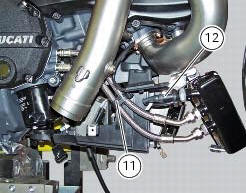 Undo the screw (8) and slide out the plate (9).
Slide the tubes (7) out of the half-casing having care not to damage the tubes o-rings (a) that guarantee the coupling sealing.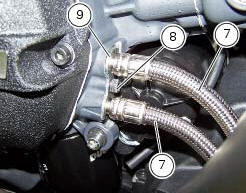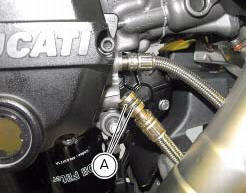 Undo and remove the screw (4) with the spacer (3). Remove the radiator by sliding it out of pins (c) and (d).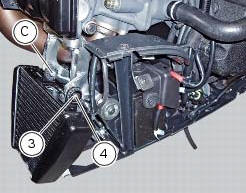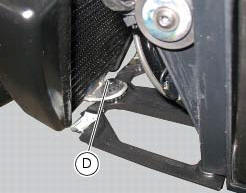 Loosen the nuts (g) of the pipes (7) from the nipples (5) and disconnect it from the radiator.
Loosen the nipples (5) on the radiator and collect the gaskets (6).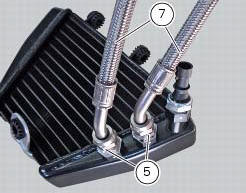 Oil cooler inspection
Visually inspect the oil cooler. Renew the cooler at any sign of damage or leaks.
Oil cooler Vibration damper mount Spacer Screw Nipple Aluminium gasket Oil delivery hose Screw Plate Bracket Screw Engine oil pressure sensor Sealing washer Heat guard ...
Note Before fitting the pipes (7), it is recommended to check the presence of the o-rings (e). Lubricate them by using engine oil. If the nipples (5) have been removed from the radiator inser ...
Other materials:
Removal of the clutch
Note For clarity, the figures show the engine removed from the frame. Undo the fixing screws (1) and remove the ring (2) and the springs (3) from the pressure plate (4). Slide the pressure plate (4) paying attention to the circlips (6). Remove the clutch control pin (14) and the ...
Changing the coolant
Warning This operation must only be carried out when the engine is cold. Attempting to change the coolant with the engine hot could lead to burns from hot coolant or scalding steam. Place a container under the engine and place the motorcycle on its side stand. Remove the expansion reserv ...
Checking protection and safety device components
Checking the side stand switch Remove the switch (1) from the side stand undoing screw (2) and disconnect the main wiring connector from the switch (see paragraph "routing of wiring on frame", sect. 6 - 1). Use an analogue or digital multimeter (sect. 6 - 11, Using a multimeter to check the ...