Ducati Diavel Service Manual: Removal of the lubrication system

Disconnect the sensor (12) of the main wiring.
Open the pipe grommet (11).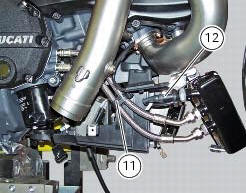 Undo the screw (8) and slide out the plate (9).
Slide the tubes (7) out of the half-casing having care not to damage the tubes o-rings (a) that guarantee the coupling sealing.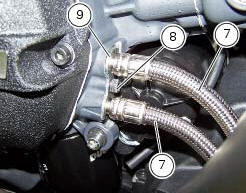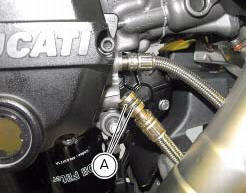 Undo and remove the screw (4) with the spacer (3). Remove the radiator by sliding it out of pins (c) and (d).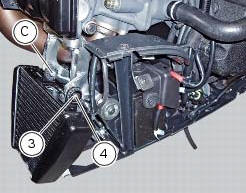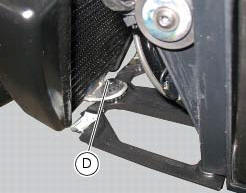 Loosen the nuts (g) of the pipes (7) from the nipples (5) and disconnect it from the radiator.
Loosen the nipples (5) on the radiator and collect the gaskets (6).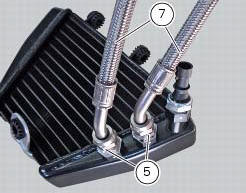 Oil cooler inspection
Visually inspect the oil cooler. Renew the cooler at any sign of damage or leaks.
Oil cooler Vibration damper mount Spacer Screw Nipple Aluminium gasket Oil delivery hose Screw Plate Bracket Screw Engine oil pressure sensor Sealing washer Heat guard ...
Note Before fitting the pipes (7), it is recommended to check the presence of the o-rings (e). Lubricate them by using engine oil. If the nipples (5) have been removed from the radiator inser ...
Other materials:
Crankcase halves
Bearing Bearing holder bushing Alternator-side crankcase half Bearing Circlip Washer Bearing Sealing ring Bearing Retaining plate Screw Screw Clutch-side crankcase half Sealing ring Bearing Circlip Bearing holder bushing Bearing Plug Screw Spacer Bush ...
Reassembly of rear shock absorber - rocker arm - linkage assembly
Once the needle roller bearings (9) have been removed from the rocker arm (18), upon reassembly fit a new needle roller bearing (9) on drift part no. 88713.1071 And lubricate with recommended grease. Support the rocker arm and drive the needle roller bearings into the rocker arm bore until t ...
Checking the engine timing
Set the engine to the configuration described for the "checking and adjusting the valve clearances", previously indicated. Install tool 88765.1188 (G) in the spark plug bore to determine the piston tdc, the gauges (h) on the tool 88765.1518 And the timing check tool (degree wheel (l) 887 ...