Ducati Diavel Service Manual: Removing outer components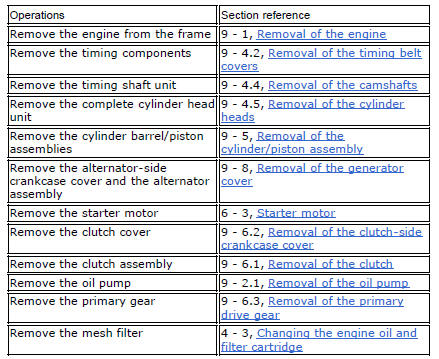 Note
The following removal operations are required in order to renew and/or clean the crankcase halves. If the original crankcase halves are to be reused, then the removal of these components is not essential.
Unscrew the screw (17) and remove the oil breather valve (1) with the o-rings (2). Check the condition of o-rings (2) and renew them if necessary.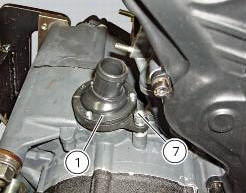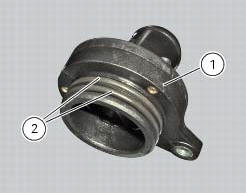 Unscrew and remove the oil filter support nipple (6) and remove also by-pass spring (7).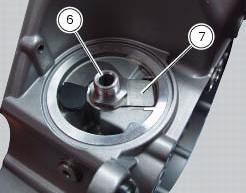 Remove the mesh filter (a) from the clutch crankcase half (sect. 4 - 3, Changing the engine oil and filter cartridge).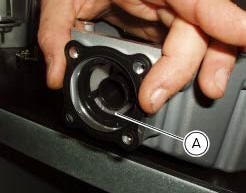 Remove the drain plug (10) with its seal (9).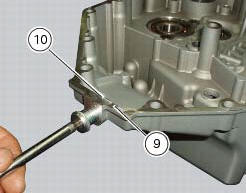 Remove gear position sensor (4) by means of the tool number 88713.3407.
Remove the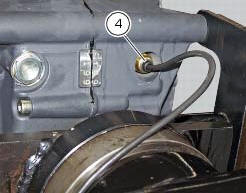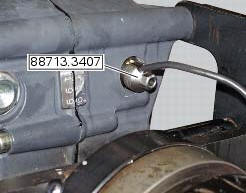 Remove the cylinder head studs (5) with the aid of the appropriate tool.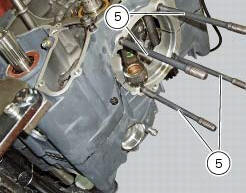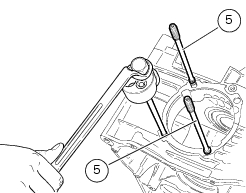 To remove the engine sensor (23), unscrew the screw (25) and recover the washer (26).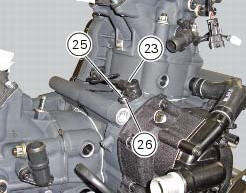 Check the condition of o-rings (22) and renew them if necessary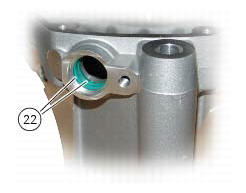 Loosen the clutch fluid flow rate adjusting valve (36) and remove the washer (37), the spring (38), the cap (39) and the ball (40).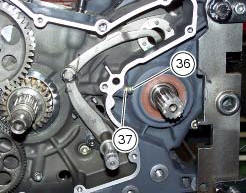 Oil breather valve O-ring Sealing washer Gear position sensor Cylinder barrel/head stud Nipple By-pass spring Plug Plug Aluminium gasket Nut Lock washer Timing gear pair ...
Fit the cap (39) on spring (38) until it engages. Mount ball (40), spring (38) with cap (39), washer (37) and screw (36) on the chain side half-casing by starting the screw into hole (f). Note ...
Other materials:
Water radiators
Clip nut Spacer Vibration damper mount Screw Screw Spacer Vibration damper mount Clip nut Bush Spacer Rear sprocket Screw Water radiator (right) Screw Screw Air deflector (right) Special screw Electro-fan Screw Vibration damper mount Screw Plug Half ...
Check the engine oil pressure
Note The on-screen icons used during this procedure are explained in a table at the end of this section. To measure the pressure of the lubrication circuit, use the engine oil pressure test point (19) as described below. Disconnect the wiring connector (f) of pressure switch (1) and rem ...
Inspection of the gear selector forks
Visually inspect the gear selector forks. Bent forks must be renewed as they may lead to difficulties in gear changing or may suddenly disengage when under load. Use a feeler gauge to check the clearance of each fork in its gear groove. If the service limit has been exceeded, check whether ...