Ducati Diavel Service Manual: Removing outer components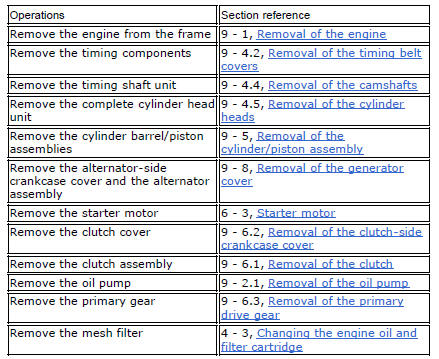 Note
The following removal operations are required in order to renew and/or clean the crankcase halves. If the original crankcase halves are to be reused, then the removal of these components is not essential.
Unscrew the screw (17) and remove the oil breather valve (1) with the o-rings (2). Check the condition of o-rings (2) and renew them if necessary.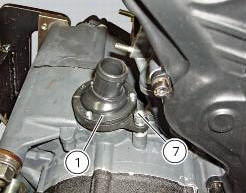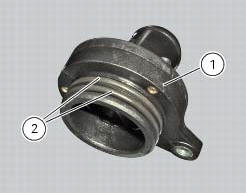 Unscrew and remove the oil filter support nipple (6) and remove also by-pass spring (7).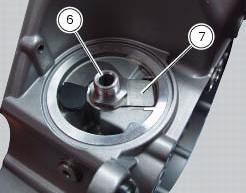 Remove the mesh filter (a) from the clutch crankcase half (sect. 4 - 3, Changing the engine oil and filter cartridge).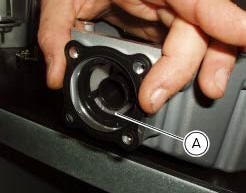 Remove the drain plug (10) with its seal (9).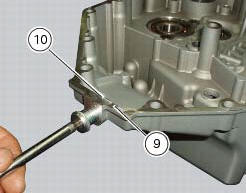 Remove gear position sensor (4) by means of the tool number 88713.3407.
Remove the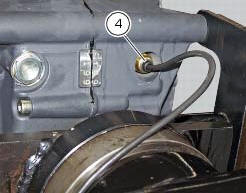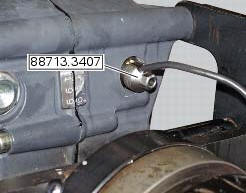 Remove the cylinder head studs (5) with the aid of the appropriate tool.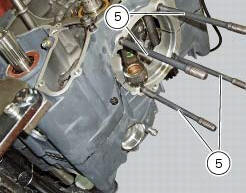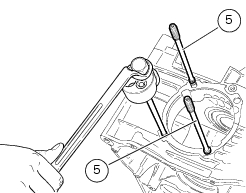 To remove the engine sensor (23), unscrew the screw (25) and recover the washer (26).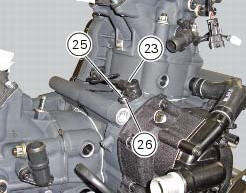 Check the condition of o-rings (22) and renew them if necessary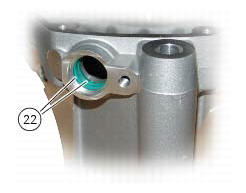 Loosen the clutch fluid flow rate adjusting valve (36) and remove the washer (37), the spring (38), the cap (39) and the ball (40).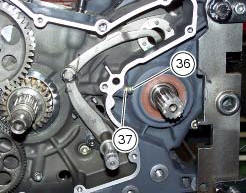 Oil breather valve O-ring Sealing washer Gear position sensor Cylinder barrel/head stud Nipple By-pass spring Plug Plug Aluminium gasket Nut Lock washer Timing gear pair ...
Fit the cap (39) on spring (38) until it engages. Mount ball (40), spring (38) with cap (39), washer (37) and screw (36) on the chain side half-casing by starting the screw into hole (f). Note ...
Other materials:
Riding mode set indication
This function indicates the "riding style" set for the vehicle. Three "riding modes" are available: sport, touring and urban. Each riding mode can be changed using the "riding mode" function. Note The background of the riding mode (sport, touring or urban) is blue (1) if currently set ridi ...
Stored lap erase function
This function erases the stored laps. To access the function it is necessary to view the "setting" menu", using buttons (1) "s" or (2) "t" select the "lap" function and press the reset button (3) to enter the following page. Use button (1) "s" or (2) "t" to select "lap data" indication and ...
Recovery in the event of flat active key battery
If the active key battery is running low or is flat, the hands free system shows the relative icon on the dashboard. The following image shows the icon appearing on the circular area of the dashboard: this indicates that the active key battery is flat. For the replacement procedure of t ...