Ducati Diavel Service Manual: Spark plugs replacement
Check the colour of the ceramic insulation around the central electrode: an even, light brown colour indicates the engine is in good condition and running at the right temperature.
Inspect the centre electrode for wear and check spark plug gap, which should be: 0.8+/-0.1 Mm.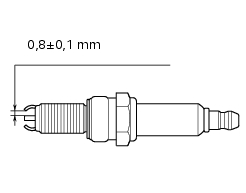 Important
Check the gap between the central and side electrodes. Replace the spark plug if taken value is different from the specified one or the spark plug shows clear signs of carbon settling.
Important
Do not use spark plugs with inadequate thermal rating or incorrect thread length.
The spark plug must be securely installed.
If a spark plug is loose, it can overheat and damage the engine.
Spark plug type
Make: ngk
Type: mar9a-j


Remove the coil-spark plugs wires (1), loosening the screws (2) of both spark plugs.
Using the appropriate tool 88713.2877 To replace the spark plugs.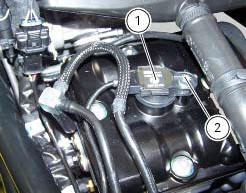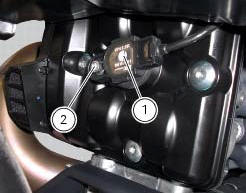 Place the coil-spark plugs wires (1) in the relevant seats and tighten the screws (2) to a torque of 10 nm (min. 9 Nm - max. 11 Nm) (sect. 3 - 3, Engine torque settings).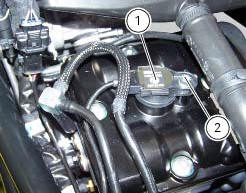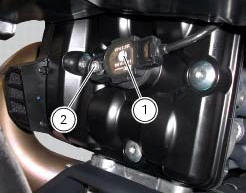 To check the valves clearance, it is necessary to have access to the cylinder head covers and then remove the components listed below. Unscrew the two fixing screws (1) of the cover (2) accord ...
The air filter must be replaced at the intervals described in the "scheduled maintenance chart" (sect. 4 - 2). Work on the vehicle right side, loosen screws (1) that secure the intake duct (2 ...
Other materials:
Clock setting function
This function sets the clock. To access the function it is necessary to view the "setting" menu page 48, using button (1, fig. 14) ?" "or (2, fig. 14) ?""select the "clock"function and press the reset button (12, fig. 12) To confirm. In the follow ...
Identification data
All ducati motorcycles have two identification numbers, for frame (fig. 1) And engine (fig. 2). Note These numbers indicate the motorcycle model and should be quoted when ordering spare parts. ...
Reassembly of the timing pulleys
Fit the pulley (11) on the flange (24), aligning the timing mark (d) on the pulley with the timing mark on the (e) on the flange. Install the washer (23) up against the pulley, aligning the timing notch (f) with the timing marks on the pulley and the flange. Insert the three screws (22) ...