Ducati Diavel Service Manual: Check engine oil level
Check the engine oil level through the sight glass (1) on the right-hand side of the oil sump.
Stop the engine and allow a few minutes for the oil to settle to a steady level.
Oil level must be checked with the vehicle perfectly upright and the engine cold.
The oil must be between the min and max. Marks. If the level is low, top it up.
Remove the filler cap (2) and top up with the recommended oil.
Refit the filler plug (2).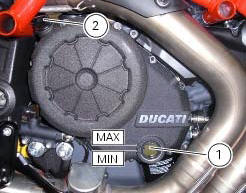 Reading of the error memory with dds on the engine control units, vehicle and abs Check if there are errors by following the procedure described in the paragraph "guided diagnosis" (sect. 6 - 11) ...
Note This operation has to be carried out with hot engine (but turned off) because the oil in these conditions is more fluid and its evacuation is faster and complete. Remove the drain plug (3) w ...
Other materials:
Total distance covered indicator: "odometer"
This function shows the total distance covered by the vehicle (in km or miles depending on the specific application). At key-on the system automatically enters this function. The odometer reading is stored permanently and cannot be reset. If the distance travelled exceeds 199999 km (or 19 ...
Anti-pollution system and auto-adaptive strategy
Efficacy of the catalytic converter and oxygen sensors To comply with current emissions legislation, the diavel is equipped with a trivalent catalytic converter, which oxidises co (carbon monoxide) and hc (unburnt hydrocarbons) and reduces nox (nitrogen oxides). The image shows the exhaus ...
Refitting the gearchange mechanism
Make sure that the gearchange linkage assembly (6) is installed with the ball joint with a left-hand thread (a) facing the lever (8). Apply the recommended grease to the non-threaded surface of the pin (4). Fit the first o-ring (5) in the pin (4). Start the pin (4) in the gearchange leve ...