Ducati Diavel Service Manual: Disassembly of the clutch cover
Remove the plug (14) and its o-ring (13), the plug (17) and its o-ring (15) from the cover.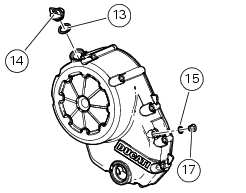 Undo the fixing screw (16) of the inner cover (19).
Remove the inner cover (6) and soundproofing panel (18).
Remove the circlip (10) and withdraw the shim (9) and the sealing ring (8).
The drilled bush (7) is mounted to the cover by a forced interference fit. Remove it using a suitable puller.
Inspect the sealing ring (8) and renew it if necessary.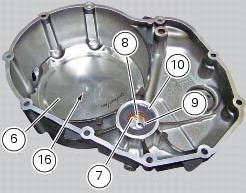 Unscrew the screws (2), (3) and (5) securing the clutch-side crankcase cover (1). Tap around the edge of the cover with a plastic mallet to detach it from the crankcase half. Remove th ...
Fit the plug (14) and the gasket (13). Fit the plug (17) and the gasket (15). If the bush has been replaced, fully seat the new bush (7) in the slot in the cover using a suitable drift and a pr ...
Other materials:
Disassembling the water radiator unit
The procedure is the same for both radiators. Loosen the screws (15), (21) and (25) to remove the air duct (24) from the right radiator (13). Undo the screws (12) and (14) to remove the half-fairing (23) from the radiator. Radiator inspection Visually inspect the oil co ...
Overhauling the front wheel
Wheel bearings Before checking the dimensions, check the wear on wheel bearings. Check for wear by hand after cleaning and degreasing the bearings in their seats. Turn the inner race. Check the amount of radial and axial play. Excessive play will cause vibration and make the bike unstabl ...
Adjusting the throttle cable
The throttle grip in all steering positions must have free play, measured on the periphery of the flange of the grip, of 1.5 - 2.0 Mm. If necessary, adjust using the adjusters (1) and (2) located on the steering tube on the right side of the motorcycle. Adjuster (1) adjusts the throttle o ...