Ducati Diavel Owners Manual: Front brake lever
Pull the lever (1, fig. 94) Towards the twistgrip to operate the front brake. The system is hydraulically assisted and you only need to pull the lever gently.
The control lever (1, fig. 94) Features a dial adjuster (2, fig. 94) For lever distance from the twistgrip on handlebar adjustment.
The lever distance can be adjusted through 10 clicks of the dial (2, fig. 94). Turn clockwise to increase lever distance from the twistgrip. Turn the adjuster counter clockwise to decrease lever distance.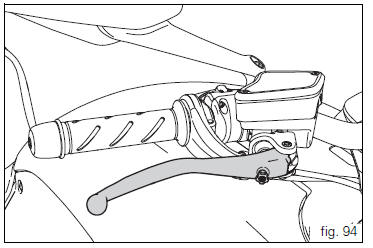 The twistgrip (1, fig. 93) On the right handlebar opens the throttles. When released, it will spring back to the initial position (idling speed). ...
Push down the pedal (1, fig. 95) To operate the rear brake. The system is hydraulically controlled. ...
Other materials:
Testing the battery charging system
Note The on-screen icons used during this procedure are explained in a table at the end of this section. You can determine the engine rpm required for generator to produce just enough current to charge battery, feed the injection ignition system and all electric items fitted to motorcycle. Wh ...
Storing the bike away
If the motorcycle is to be left unridden over long periods, it is advisable to carry out the following operations before storing it away: clean the motorcycle; empty the fuel tank; pour a few drops of engine oil into the cylinders through the spark plug bores, then turn the engine over by hand ...
Removal of the water pump
Note For clarity, the figures show the engine removed from the frame. Loosen and remove the water pump cover (12) fixing screws (13) to the generator cover (16). Remove the water pump cover (12). Clean the pump housing of any scale. Check the bearings wear by turning the impeller s ...