Ducati Diavel Service Manual: Indication of range reached for service
When service coupon threshold is achieved, upon every key-on the system displays the indication of the type of intervention that is required (oil service or desmo service).
The (red) warning is activated as a large icon for 10 seconds upon every key-on (1) then as a small warning that remains displayed (2) until it is reset.
After reset, the system will display again the type of intervention required next and the residual range (as described in the previous paragraph).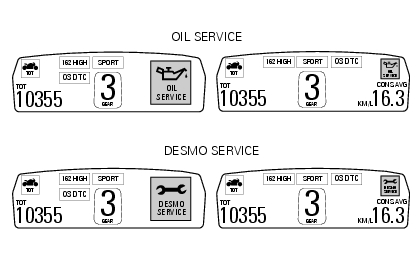 After resetting the first oil service warning (triggered at 1000 km), upon every key-on the system displays the indication of which type of service should be performed next (oil service or desmo ...
The dashboard activates in real-time some warnings / malfunction that are not dangerous for the correct operation of the vehicle. At key-on (at the end of the check) one or more "warnings" are d ...
Other materials:
Disassembly of the gearchange mechanism
Refer to the exploded view at the beginning of this section for indications on disassembly and renewal of gearchange components. If the bushing (2) inside the pedal (1) needs replacing, grease the external surface and drive the new bushing into place using a press. The bushing must be seate ...
Refitting the clutch master cylinder assembly
Insert the clutch master cylinder assembly (3) and the clamp (6) on the left handlebar, so that the top mating faces match the mark (z) on the handlebar as shown. Couple terminal (6) to the clutch master cylinder control and fix them with the screws (v). Tighten the retaining screws ...
Overhaul of the gearbox
Check the condition of the front coupling dogs of the gears. They must be in perfect condition and with no sign of wear on the edges of the teeth. The idler gears must rotate freely on their shafts. When refitting, make sure the circlips are correctly positioned. Check the needle roller ...