Ducati Diavel Service Manual: Indicator air - air temperature
This function shows the external temperature.
Display limits: -39C - +124C
In the event of a sensor fault (-40C, +125C or disconnected), a string of dashes "- - -" (not flashing) is displayed and the "vehicle/engine diagnosis - eobd" light comes on.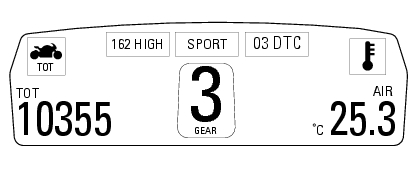 Note
When the vehicle is stopped, the engine heat could influence the displayed temperature.
When the detected temperature drops to 4C (39f), the display warns that the formation of ice is possible. The indication turns off when the temperature rises to 6C (43f).
Warning
This warning does not exclude the possibility of icy road sections even at temperatures above 4C (39f); when external temperatures are "low" it is always recommended to ride carefully, particularly on sections that are not exposed to the sun and/or on bridges.
This function shows the vehicle trip time. The calculation is made considering the time travelled since the last trip 1 reset. When trip 1 is reset, the value is set to zero. The active phase ...
This function displays the gears (1). The dashboard receives information and indicates the engaged gear or "n" for neutral. In the case of a gear sensor "error", a dash "-" (not flashing) will ...
Other materials:
Removal of the lubrication system
Disconnect the sensor (12) of the main wiring. Open the pipe grommet (11). Undo the screw (8) and slide out the plate (9). Slide the tubes (7) out of the half-casing having care not to damage the tubes o-rings (a) that guarantee the coupling sealing. Undo and remove the sc ...
Removal of the engine
In order to remove engine you must first remove a series of other components from the motorcycle. Most of these removal procedures are described in the relative sections of this manual. The following flow chart illustrates the logical sequence in which the parts are to be removed from th ...
Adjusting the chain tension
Make the rear wheel turn until you find the position where chain is tightest. Set the vehicle on the side stand. Push down the chain at the point of measurement and release. Measure the distance between the "aperture" upper profile and pin centre. The read distance must be: 9 to 11 mm. ...