Ducati Diavel Service Manual: Indicator air - air temperature
This function shows the external temperature.
Display limits: -39C - +124C
In the event of a sensor fault (-40C, +125C or disconnected), a string of dashes "- - -" (not flashing) is displayed and the "vehicle/engine diagnosis - eobd" light comes on.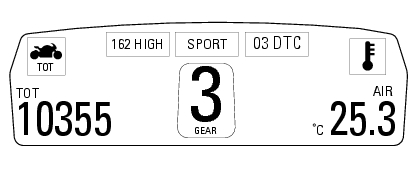 Note
When the vehicle is stopped, the engine heat could influence the displayed temperature.
When the detected temperature drops to 4C (39f), the display warns that the formation of ice is possible. The indication turns off when the temperature rises to 6C (43f).
Warning
This warning does not exclude the possibility of icy road sections even at temperatures above 4C (39f); when external temperatures are "low" it is always recommended to ride carefully, particularly on sections that are not exposed to the sun and/or on bridges.
This function shows the vehicle trip time. The calculation is made considering the time travelled since the last trip 1 reset. When trip 1 is reset, the value is set to zero. The active phase ...
This function displays the gears (1). The dashboard receives information and indicates the engaged gear or "n" for neutral. In the case of a gear sensor "error", a dash "-" (not flashing) will ...
Other materials:
Removal of the movable tensioner/timing belt
Loosen the nut (8) and remove the washer (7) and the tensioner pulley (9) from the pin (12) on the cylinder head. Remove the timing belt (14) from the horizontal cylinder assembly. Important If the belts are to be re-used, mark the direction of rotation with an arrow and also mark the cylin ...
Disassembly of structural components and the frame
Before carrying out dimensional checks on the frame, you must remove all the superstructures fitted, referring to the removal procedures outlined in the sections of this manual. The rear subframes (2) and (3) are structural components of the frame (1). Both serve to support motorcycle super ...
Tips for use on the road
Activate the dtc, select level 8 and ride the motorcycle in your usual style; if the level of dtc intervention seems excessive, try reducing the setting to levels 7, 6, etc., Until you find the level that suits you best. If changes in the grip conditions and/or circuit characteristics and/or ...