Ducati Diavel Service Manual: Overhauling the rear wheel
Inspect the condition of the rear wheel.
As the wheel rim has no bearings, it should be supported using the service tool code 88713.2951.
Note
This service tool can also be used to install the wheel on a balancing machine.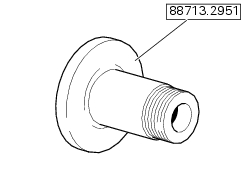 Overhauling the wheel
Inspect the wheel as described below.
Visually inspect the wheel for cracks, scoring and deformation; change the wheel if damaged.
Fit the wheel rim on service tool code 88713.2951 Using the original fasteners.
Using a dial gauge, appropriately supported, measure wheel rim run-out and out-of-round according to the wheel axle (sect. 3 -1.1, Rear wheel).
If the values measured are not within the tolerance limits, renew the wheel.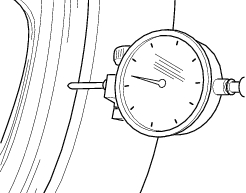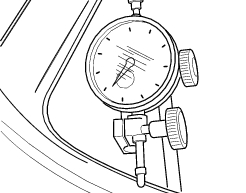 Place the motorcycle on the rear service stand and engage the 1st gear. Remove the clip (6). Using a suitable socket wrench, loosen the wheel nut (1). Fully unscrew the nut (1), then re ...
Lubricate the wheel shaft threaded end with prescribed grease. Insert the wheel shaft by matching (a) with pins (b). Install spacer (3) with the conical surface faced to the wheel conical ...
Other materials:
Gear indicator display on dashboard shows dashes, engaged gear not displayed correctly, idle speed irregular with gearbox in neutral
Fault codes Dds: gear sensor diagnosis -> short circuit to ground or open circuit (s.C. Gnd or c.O.) - Short circuit to vdc (s.C. Vdc) - congruence (generic error - signal not correct). Dashboard: the error "gear sensor" is shown on the service display. The eobd warning light activates. ...
Steering release error - steering still locked
The activation of this (amber yellow) "warning" indicates that the hands free system was not able to extract the steering lock. Warning In this case, ducati recommends turning the vehicle off and on (key-off / key-on) holding the handlebar pressed down to the end stop. If the signal ...
Throttle valve position sensor
Introduction The throttle valve position sensor (tps) of the diavel is mounted on the throttle body. The sensor is integrated into the throttle valve actuator motor, which turns the spindle of the vertical cylinder throttle valve directly. The sensor sends information to the engine con ...