Ducati Diavel Service Manual: Water radiators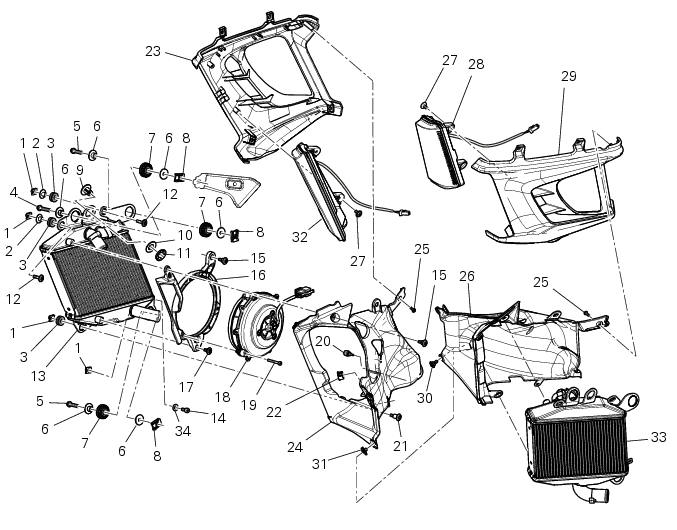 Clip nut
Spacer
Vibration damper mount
Screw
Screw
Spacer
Vibration damper mount
Clip nut
Bush
Spacer
Rear sprocket
Screw
Water radiator (right)
Screw
Screw
Air deflector (right)
Special screw
Electro-fan
Screw
Vibration damper mount
Screw
Plug
Half-fairing (right)
Internal air duct
Screw
Internal air duct
Screw
Front turn indicator
Half-fairing (left)
Special screw
Clip nut
Front turn indicator
Water radiator (left)
Washer
Screw
Spare parts catalogue
Diavel abs radiator (right)
Diavel abs radiator (left)
Diavel abs half fairing
Diavel carbon abs radiator (right)
Diavel carbon abs radiator (left)
Diavel carbon abs half fairing
Important
Bold reference numbers in this section identify parts not shown in the figures alongside the text, but which can be found in the exploded view diagram.
The exploded view shows only the rh water radiator since the left one features the same components except the plug (22).
Position the pump/radiator sleeve (22) and the radiator/radiator sleeve (23). Fit sleeve (23) and sleeve (22) to their corresponding fittings (n) and (o), and bring them fully home on collars (p) ...
Loosen the screws (p) that retain the supports (s) of the front splashguard to the air ducts (24) and (26). Loosen the screws (30), to separate the two internal air ducts (24) and (26). ...
Other materials:
Removing of the abs control unit
Drain the hydraulic fluid that is inside the front and rear braking system tubes by disconnecting them from the master cylinder and the calliper (sect. 4 -3, Changing the brake fluid). Disconnect the connector (a) of the abs control unit (6). Loosen the screws (16) that retain the abs ...
Exhaust by-pass valve not working correctly
Fault codes Dds: exvl diagnosis -> position error, potentiometer, short circuit to ground or open circuit (s.C. Gnd or c.O.), Potentiometer short circuited to vdc (potentiometer s.C vdc). Dashboard: the error "exvl" (exhaust bypass valve) is shown on the service display. The eobd warning ...
Removal of the tool tray
To remove the tool tray unit from the lateral footrests, loosen the screws (40) and remove the splashguard (20). Undo the screws (15) and remove the cover (16). Move the wiring branch from the seat (s) on the tool tray. Loosen the screws (24) to remove the tool tray unit (23) from ...