Ducati Diavel Service Manual: Water radiators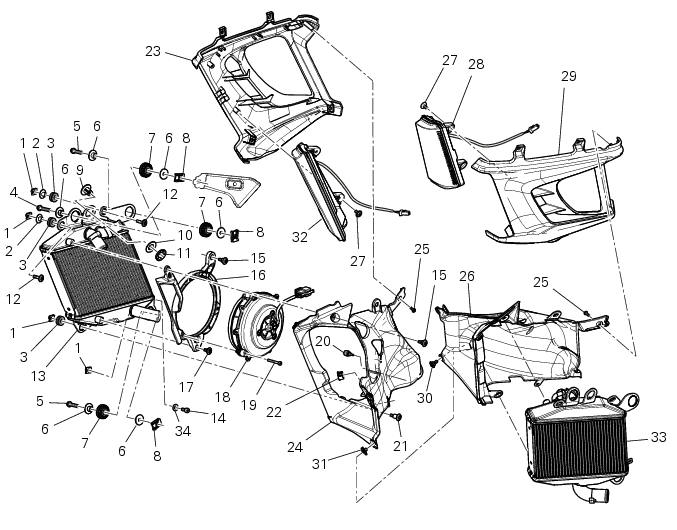 Clip nut
Spacer
Vibration damper mount
Screw
Screw
Spacer
Vibration damper mount
Clip nut
Bush
Spacer
Rear sprocket
Screw
Water radiator (right)
Screw
Screw
Air deflector (right)
Special screw
Electro-fan
Screw
Vibration damper mount
Screw
Plug
Half-fairing (right)
Internal air duct
Screw
Internal air duct
Screw
Front turn indicator
Half-fairing (left)
Special screw
Clip nut
Front turn indicator
Water radiator (left)
Washer
Screw
Spare parts catalogue
Diavel abs radiator (right)
Diavel abs radiator (left)
Diavel abs half fairing
Diavel carbon abs radiator (right)
Diavel carbon abs radiator (left)
Diavel carbon abs half fairing
Important
Bold reference numbers in this section identify parts not shown in the figures alongside the text, but which can be found in the exploded view diagram.
The exploded view shows only the rh water radiator since the left one features the same components except the plug (22).
Position the pump/radiator sleeve (22) and the radiator/radiator sleeve (23). Fit sleeve (23) and sleeve (22) to their corresponding fittings (n) and (o), and bring them fully home on collars (p) ...
Loosen the screws (p) that retain the supports (s) of the front splashguard to the air ducts (24) and (26). Loosen the screws (30), to separate the two internal air ducts (24) and (26). ...
Other materials:
Instrument panel on tank
Menu 1 (tot, trip1, trip2, trip fuel). Menu 2 (cons.Avg., Cons., Speed avg, air and trip time) if active. Gear / neutral indication. Icon referred to the function below from menu 1. Indication of engine setting for the currently set riding style. Currently set riding style (riding m ...
Refitting the timing covers
Locate vertical cylinder external cover (25), horizontal cylinder external cover (3) and central external cover (1) by starting the screws (4). Apply the recommended threadlocker to the screws (4). Tighten the screws (4) to a torque of 10 nm (min. 9 Nm - max. 11 Nm) (sect. 3 - 3, Engine t ...
Disassembly of the gearchange mechanism
Refer to the exploded view at the beginning of this section for indications on disassembly and renewal of gearchange components. If the bushing (2) inside the pedal (1) needs replacing, grease the external surface and drive the new bushing into place using a press. The bushing must be seate ...