Ducati Diavel Service Manual: Removal of the expansion tank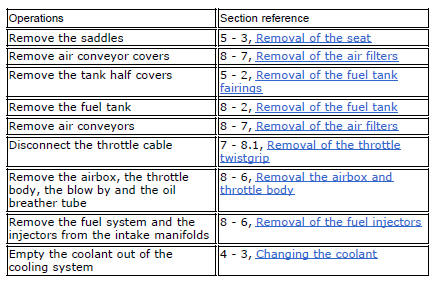 Loosen the clamp (6), open the hose guide (a) and slide the hose (7) out of the radiator.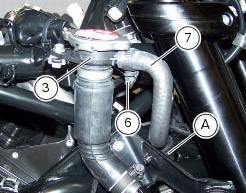 Open clamps (14) and release the hoses that pass through them.
Loosen the screws (16).
Remove the tank (12) with its hoses (7) and (20) and the support (15).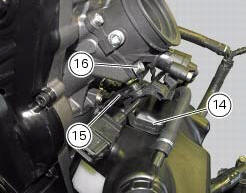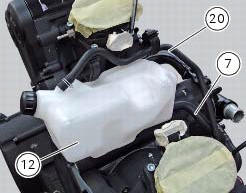 Loosen the clamp (19) to remove the hoses (7) and (20) from the tank.
Loosen the screws (18) and remove the supporting plate (15).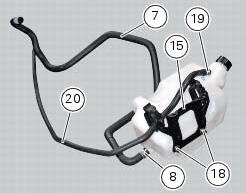 Plug Screw Fuel filler flange Clip nut Clamp Hose clip Valve/tank hose Clamp Screw Spacer Rubber mounting Expansion reservoir Filler cap Hose clip Support Screw ...
If the support (15) has been removed, place the hose clamps (14) on the bracket (15) orienting them as indicated. Fully press the pins (a) to block the clamps (14) until pins surfaces (b) are at ...
Other materials:
Removal of the fuel tank filler cap
Remove tank covers (sect. 5 - 2, Removal of the fuel tank fairings). Remove hoses (8) and (15) from the filler cap assembly (10). Open the filler cap. Unscrew the outer screws (17) securing the ring nut to the filler cap recess. Remove the filler cap assembly (10). ...
Disassembly of the gearchange mechanism
Refer to the exploded view at the beginning of this section for indications on disassembly and renewal of gearchange components. If the bushing (2) inside the pedal (1) needs replacing, grease the external surface and drive the new bushing into place using a press. The bushing must be seate ...
Reassembly of the connecting rods
Before starting, check that the crankshaft main bearing journals and big-end journals are free of burrs or evident signs of machining: if necessary, clean the surfaces with very fine emery cloth and oil. Check that the grooves are in perfect condition with no signs of forcing. Clean the cra ...