Ducati Diavel Service Manual: Removal of the expansion tank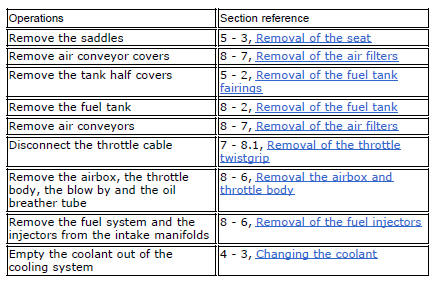 Loosen the clamp (6), open the hose guide (a) and slide the hose (7) out of the radiator.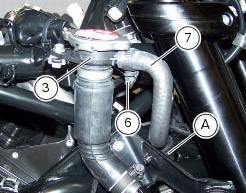 Open clamps (14) and release the hoses that pass through them.
Loosen the screws (16).
Remove the tank (12) with its hoses (7) and (20) and the support (15).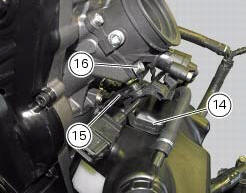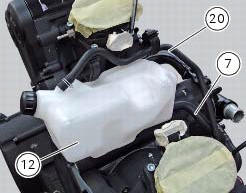 Loosen the clamp (19) to remove the hoses (7) and (20) from the tank.
Loosen the screws (18) and remove the supporting plate (15).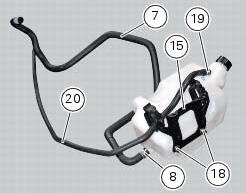 Plug Screw Fuel filler flange Clip nut Clamp Hose clip Valve/tank hose Clamp Screw Spacer Rubber mounting Expansion reservoir Filler cap Hose clip Support Screw ...
If the support (15) has been removed, place the hose clamps (14) on the bracket (15) orienting them as indicated. Fully press the pins (a) to block the clamps (14) until pins surfaces (b) are at ...
Other materials:
Recovery procedure in the event of electric steering lock fault
If any fault occurs during activation of the electric steering lock: for example, if the pin jams, if the handlebar is moved while the pin is deployed or if there is excessive strain on the electric pin actuator motor, the electric steering lock is automatically disengaged and the hands free s ...
The immobilizer system
For additional antitheft protection, the motorcycle is equipped with an immobilizer, an electronic system that locks the engine automatically whenever the ignition switch is turned off. The grip of each ignition key contains an electronic device that modulates the output signal from a special ...
Removal of the clutch
Note For clarity, the figures show the engine removed from the frame. Undo the fixing screws (1) and remove the ring (2) and the springs (3) from the pressure plate (4). Slide the pressure plate (4) paying attention to the circlips (6). Remove the clutch control pin (14) and the ...