Ducati Diavel Service Manual: Removal of the generator cover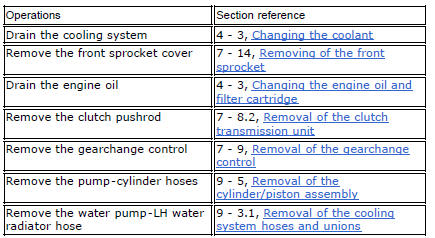 Note
This operation is described for an engine removed from the frame since all reassembly procedures are easier with the engine on the bench.
Disconnect the connector (a) from the generator cable.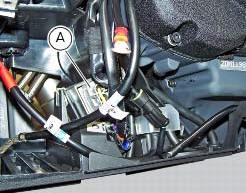 Unscrew the two retaining screws (7) of the centre cap (6) over the end of the crankshaft.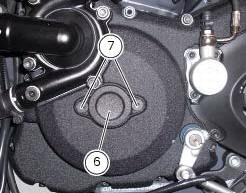 Loosen the screws (1) and (12) securing the generator cover (13).
Use tool number 88713.1749 And fix it to the holes (a) of the previously removed screws (7).
Turn the tool shaft slowly to separate the cover (13) from the lh crankcase half.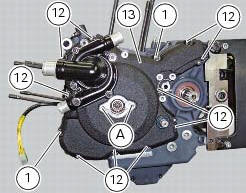 There is a seal (4) on the cover (13) in correspondence with the gearchange lever shaft that may be damaged when removing the generator cover.
Always check the condition of this sealing ring and renew it if damaged.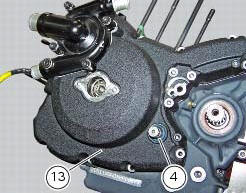 Screw Alternator stator Plug Sealing ring O-ring Cover Screw Aluminium gasket Screw Bracket Locating bush Screw generator cover Flange Flanged nut Plane washer F ...
Undo the three stator retaining screws (25) and the two retaining screws (9) of the two cable grommet bracket (10) from inside the generator cover. Remove the stator (2) and the cable grommet br ...
Other materials:
Reassembly of the timing pulleys
Fit the pulley (11) on the flange (24), aligning the timing mark (d) on the pulley with the timing mark on the (e) on the flange. Install the washer (23) up against the pulley, aligning the timing notch (f) with the timing marks on the pulley and the flange. Insert the three screws (22) ...
Low beam lights not working
Location of connections and components (A) injection relay; (b) etv relay (throttle valve operating engine); (c) radiator fan relay; (d) hands free relay. Fuses located at the rear left of the vehicle. (1) 10A dashboard; (2) 5a engine control unit; (3) 15a key-sense; (4) 20a injecti ...
Rh switch
Red on/off switch. Black engine start button. The switch (1) has three positions: Centre: run off. In this position, the engine cannot be started and all electronic devices are off. Pushed down: on/off. In this position, the system can be turned on (key-on) and off (key-off). Pus ...