Ducati Diavel Service Manual: Disassembly of the generator cover
Undo the three stator retaining screws (25) and the two retaining screws (9) of the two cable grommet bracket (10) from inside the generator cover.
Remove the stator (2) and the cable grommet bracket (10).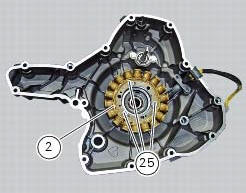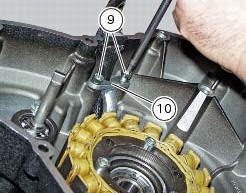 The generator-side crankcase cover is fitted with a bearing (27), held in place by circlip (23), which is located on the end of the crankshaft.
Remove the circlip (23) with circlip pliers.
Remove the bearing (27) using a universal puller.
Be careful when fitting the new bearing (27) to ensure it is positioned with the shielded side facing away from the cover.
Secure the bearing with the circlip (23), ensuring that it is correctly fitted in its seat in the generator cover (13).
Remove the water pump components as described in sect. 9 - 3.3, Removal of the water pump.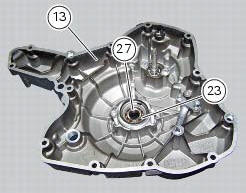 Note This operation is described for an engine removed from the frame since all reassembly procedures are easier with the engine on the bench. Disconnect the connector (a) from the generator ...
Use the tool 88713.3367 Fixed to the m10 side stand fixing holes (d). Secure the tool to the flywheel with the screws (e). Unscrew the alternator-flywheel retaining nut (15). Warning While uns ...
Other materials:
Alternator
It is equipped with a 12 v, 430 w generator, consisting of a fixed element (stator, a) located on the generator cover and of a movable element (rotor, b) fixed to the crankshaft. Note To check the battery charging system for faults, use the dds diagnosis instrument and follow the instruct ...
Gearbox shafts
Shim, thickness 1 Gearbox primary shaft Shim, thickness 0.5 Needle roller bearing 5Th speed driving gear Splined washer, thickness 0.5 Circlip 3Rd- 4th speed driving gear 6Th speed driving gear 2Nd speed driving gear Shim, thickness 1.8 Splined washer, thickness 0.5 Sp ...
Water radiators
Clip nut Spacer Vibration damper mount Screw Screw Spacer Vibration damper mount Clip nut Bush Spacer Rear sprocket Screw Water radiator (right) Screw Screw Air deflector (right) Special screw Electro-fan Screw Vibration damper mount Screw Plug Half ...