Ducati Diavel Service Manual: Removing of the rear brake control
Warning
The brake master cylinder manufacturer advises against servicing the brake master cylinder due to the safety critical nature of this component.
Incorrect overhaul can endanger the rider and passenger.
Maintenance operations on these units are limited to renewal of the following parts: control lever, fluid reservoir assembly and relative fasteners and master cylinder fasteners.

Note
For the abs front braking system, also refer to sect. 7 - 5, Abs system operating information, sect. 7 - 6, System components, sect. 7 - 7, Abs components maintenance.
Slide the adjusting rod (18) out of the rear brake master cylinder (16).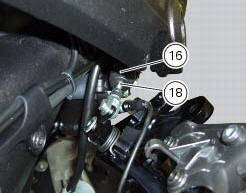 Loosen the special screw (22) from the master cylinder (16); slide out the hose (7) and recover the sealing washers (23).
Loosen the rear brake master cylinder (16) retaining screws (19) and remove it from the vehicle.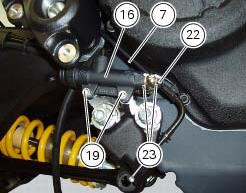 Undo the fixing pin (9) of the brake lever (6), collecting the spring (4).
Remove the brake lever (6) and collect the pin (9), the washer (3), the bush (10) and the o-ring (11).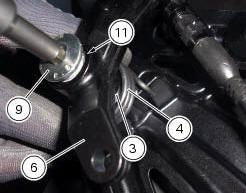 Rear speed sensor (abs) Screw Washer Spring Brake switch (rear) Brake lever (rear) Rear pump - control unit pipe Sealing washer Pin Bush O-ring Screw screw Rear brake ...
The brake master cylinder is supplied only as a complete unit; internal components cannot be replaced. To disassemble the master cylinder's outer parts, follow the indications given in the expl ...
Other materials:
Footrest brackets
Rubber footrest Right front footrest Pin Spring Circlip Right footrest bracket Screw Washer O-ring Bush Rubber pad Right rear footrest Pin Ball Spring Plate Screw Vibration damper mount Special screw Front lh footrest Left footrest bracket Left rear f ...
Traction control (dtc) deactivated
The activation of this (amber yellow) "warning" indicates that dtc (ducati traction control) has been turned off. Note In this case, ducati recommends being very careful when riding as the vehicle behaviour will be different in comparison to when operating with the traction control ...
Removal of the front forks
Before removing the front forks, it is first necessary to remove the following parts: Loosen the clamp screws (1) holding the fork legs to the steering head (3). Loosen the clamp screws (2) and (26) securing the fork legs to the bottom yoke (4). Withdraw the fork legs (5) and (6) downwar ...