Ducati Diavel Service Manual: Removing of the rear brake control
Warning
The brake master cylinder manufacturer advises against servicing the brake master cylinder due to the safety critical nature of this component.
Incorrect overhaul can endanger the rider and passenger.
Maintenance operations on these units are limited to renewal of the following parts: control lever, fluid reservoir assembly and relative fasteners and master cylinder fasteners.

Note
For the abs front braking system, also refer to sect. 7 - 5, Abs system operating information, sect. 7 - 6, System components, sect. 7 - 7, Abs components maintenance.
Slide the adjusting rod (18) out of the rear brake master cylinder (16).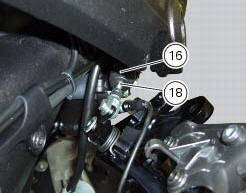 Loosen the special screw (22) from the master cylinder (16); slide out the hose (7) and recover the sealing washers (23).
Loosen the rear brake master cylinder (16) retaining screws (19) and remove it from the vehicle.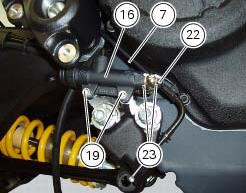 Undo the fixing pin (9) of the brake lever (6), collecting the spring (4).
Remove the brake lever (6) and collect the pin (9), the washer (3), the bush (10) and the o-ring (11).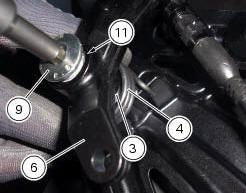 Rear speed sensor (abs) Screw Washer Spring Brake switch (rear) Brake lever (rear) Rear pump - control unit pipe Sealing washer Pin Bush O-ring Screw screw Rear brake ...
The brake master cylinder is supplied only as a complete unit; internal components cannot be replaced. To disassemble the master cylinder's outer parts, follow the indications given in the expl ...
Other materials:
Replacing the rear phonic wheel sensor
Disconnect the rear abs sensor (5) connector (c) from the main electric wiring. Open all the retainer clamps of the rear abs sensor cable (5): refer to table of sect. 7 - 6, Flexible wiring/hoses positioning. Remove the rear abs sensor (5) from its seat on the rear calliper mounting ...
Refuelling
Never overfill the tank when refuelling. The fuel level should always be below the rim of the filler recess. Warning Use low-lead fuel with 95 octane rating at origin minimum (see "top-ups" table, page 173). Check that no fuel is trapped in the filler cap recess. ...
Limited liability
The liability of ducati under this emission control systems warranty is limited solely to the remedying of defects in material or workmanship by an authorized ducati motorcycle dealer at its place of business during customary business hours. This warranty does not cover inconvenience or l ...