Ducati Diavel Service Manual: Disassembly of the rear brake control
The brake master cylinder is supplied only as a complete unit; internal components cannot be replaced.
To disassemble the master cylinder's outer parts, follow the indications given in the exploded view at the beginning of this section.
If the bush (10) inside the brake pedal (6) needs to be replaced, grease the external surface and fit the new bush using a press to insert it. The bush must be placed at 2 mm from the pedal external face.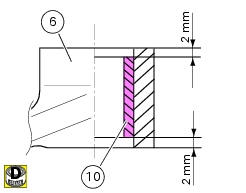 To disassemble the various parts of the system, refer to the exploded view at the beginning of this chapter.
Warning
After performing an operation on the rear brake control, check the brake pedal position following the instructions detailed in sect. 4 - 3, Adjusting the position of the gear change and rear brake pedals.
Warning The brake master cylinder manufacturer advises against servicing the brake master cylinder due to the safety critical nature of this component. Incorrect overhaul can endanger the rider ...
If the pushrod (18), clip (30) and fork (31) assembly has been dismantled, reassemble it by screwing the nut (29) onto the rod (18) and then screw the rod into the fork (31) to obtain the measureme ...
Other materials:
Electrical components support
Clip Screw Voltage regulator Battery fixing bracket Battery support Vibration damper mount Hose clip Vibration damper mount Clip Washer Screw Cover Cable grommet Battery Battery mat Screw Bracket Solenoid starter Spring washer Spacer Screw Horn Scre ...
Removal of the evaporative emissions canister
Loosen the screws (9) securing the plate (8) to the tank. Slightly pull the plate (8) with the canister (13), remove the clamps (3) and (12) and connect hoses (7) and (14). Release the retainers (b) of the plate (8) to remove it from the canister (13). Disconnect the hose ...
Indicator cons. - Instantaneous fuel consumption
This function indicates the "instantaneous" fuel consumption. The calculation is made considering the quantity of fuel used and the distance travelled during the last second. The datum is expressed in "l / 100" (litres / 100 km); it is possible to change the units of measurement for "consump ...