Ducati Diavel Service Manual: Spark plugs replacement
Check the colour of the ceramic insulation around the central electrode: an even, light brown colour indicates the engine is in good condition and running at the right temperature.
Inspect the centre electrode for wear and check spark plug gap, which should be: 0.8+/-0.1 Mm.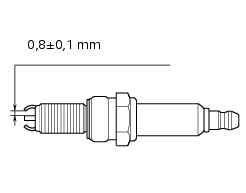 Important
Check the gap between the central and side electrodes. Replace the spark plug if taken value is different from the specified one or the spark plug shows clear signs of carbon settling.
Important
Do not use spark plugs with inadequate thermal rating or incorrect thread length.
The spark plug must be securely installed.
If a spark plug is loose, it can overheat and damage the engine.
Spark plug type
Make: ngk
Type: mar9a-j


Remove the coil-spark plugs wires (1), loosening the screws (2) of both spark plugs.
Using the appropriate tool 88713.2877 To replace the spark plugs.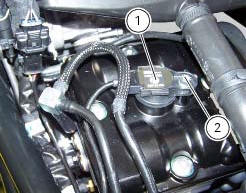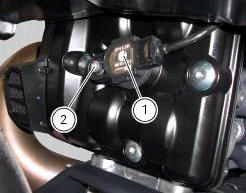 Place the coil-spark plugs wires (1) in the relevant seats and tighten the screws (2) to a torque of 10 nm (min. 9 Nm - max. 11 Nm) (sect. 3 - 3, Engine torque settings).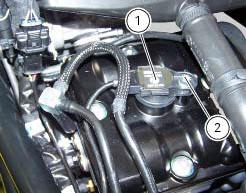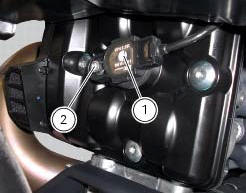 To check the valves clearance, it is necessary to have access to the cylinder head covers and then remove the components listed below. Unscrew the two fixing screws (1) of the cover (2) accord ...
The air filter must be replaced at the intervals described in the "scheduled maintenance chart" (sect. 4 - 2). Work on the vehicle right side, loosen screws (1) that secure the intake duct (2 ...
Other materials:
Flexible wiring/hoses positioning
The routing of the abs wiring has been optimised to ensure the minimum obstruction. Each section is designed to prevent interference with parts that might damage wires or cause operating failures when riding. Table a Table b Table c ...
Main bearings
The main bearings have are of the angular contact type with offset inner races so that the balls transmit loads from one groove to the other along straight lines at an angle to the axis of the bearing. The angle-contact ball bearings are designed for bearing combined loading (radial-axial load ...
Backlighting setting function for the instrument panel on Handlebar - dashboard 2
This function allows backlighting setting of the instrument panel on handlebar. To access the function it is necessary to view the "setting" menu page 48, using button (1, fig. 14) ?" " or (2, fig. 14) ?" " select the "back light" function and press ...