Ducati Diavel Owners Manual: Tft - parameter setting/display

Warning
Any adjustments to the instrument panel must only be carried out when the motorcycle is stationary. Never operate the instrument panel controls while riding the motorcycle.
At the end of the check, the instrument panel always displays as the "main" indication the odometer (tot) on the left and the average fuel consumption on the right (unless menu 2 was disabled).
At the end of the initial check, the instrument panel will always show the "main" display, indicating the following information:
Set "riding style" (riding mode);
Gear indication (gear);
Menu 1: odometer (tot);
Menu 2: average fuel consumption (cons. Avg).
By pressing the (1, fig. 14) ?


button it is possible to switch to the following functions of menu 1:
Trip1 - trip meter 1;
Trip2 - trip meter 2;
Trip fuel - distance travelled on fuel reserve (only if active).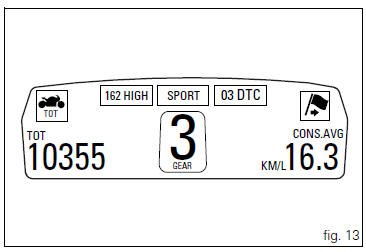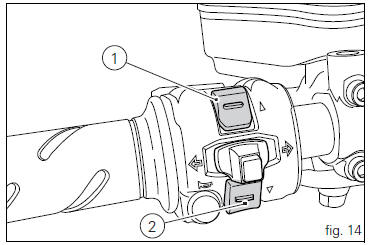 By pressing the (2, fig. 14) ?


button it is possible to switch to the following functions of menu 2:
Cons. - Current fuel consumption;
Speed avg - average speed;
Trip time - trip time;
Air - air temperature.

Note
Menu 2 viewing can be disabled through the "menu 2" function of the setting menu.
Menu 1 (tot, trip1, trip2, trip fuel). Menu 2 (cons.Avg., Cons., Speed avg, air and trip time) if active. Gear / neutral indication. Icon referred to the function below from menu 1. Indic ...
This function shows the total distance covered by the vehicle (in km or miles depending on the specific application). At key-on the system automatically enters this function. The odometer readi ...
Other materials:
Removal of the clutch
Note For clarity, the figures show the engine removed from the frame. Undo the fixing screws (1) and remove the ring (2) and the springs (3) from the pressure plate (4). Slide the pressure plate (4) paying attention to the circlips (6). Remove the clutch control pin (14) and the ...
Overhaul of the crankcase halves
Carefully examine the engine crankcase halves. Check that the surfaces of the crankcase halves are perfectly flat using a reference surface. Check that the bearings (1) and (18), and the bushings (2) and (17) are in optimum conditions. Note that the main bearings must always be changed in p ...
Tips on how to select the sensitivity level
Warning The 8 level settings of the dtc were calibrated using tyres of the same make, model and size as those originally fitted to the motorcycle. The use of tyres of different size to the original tyres may alter the operating characteristics of the system. In the case of minor differenc ...