Ducati Diavel Owners Manual: Tft - parameter setting/display

Warning
Any adjustments to the instrument panel must only be carried out when the motorcycle is stationary. Never operate the instrument panel controls while riding the motorcycle.
At the end of the check, the instrument panel always displays as the "main" indication the odometer (tot) on the left and the average fuel consumption on the right (unless menu 2 was disabled).
At the end of the initial check, the instrument panel will always show the "main" display, indicating the following information:
Set "riding style" (riding mode);
Gear indication (gear);
Menu 1: odometer (tot);
Menu 2: average fuel consumption (cons. Avg).
By pressing the (1, fig. 14) ?


button it is possible to switch to the following functions of menu 1:
Trip1 - trip meter 1;
Trip2 - trip meter 2;
Trip fuel - distance travelled on fuel reserve (only if active).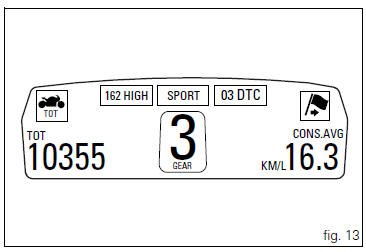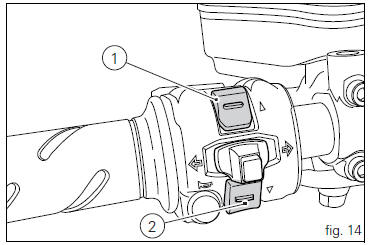 By pressing the (2, fig. 14) ?


button it is possible to switch to the following functions of menu 2:
Cons. - Current fuel consumption;
Speed avg - average speed;
Trip time - trip time;
Air - air temperature.

Note
Menu 2 viewing can be disabled through the "menu 2" function of the setting menu.
Menu 1 (tot, trip1, trip2, trip fuel). Menu 2 (cons.Avg., Cons., Speed avg, air and trip time) if active. Gear / neutral indication. Icon referred to the function below from menu 1. Indic ...
This function shows the total distance covered by the vehicle (in km or miles depending on the specific application). At key-on the system automatically enters this function. The odometer readi ...
Other materials:
Lap activation/deactivation function (lap time)
This function activates and deactivates the lap function (lap time). To access the function it is necessary to view the "setting" menu page 48, using button (1, fig. 14) ?" " or (2, fig. 14) ?" " select the "lap" function and press the reset button ...
California emission control warranty statement
Your warranty rights and obligations The california air resources board is pleased to explain the emission control system warranty on your my 2011 motorcycle. In california, new motor vehicles must be designated, built and equipped to meet the state's stringent anti-smog standards. Ducati north ...
Check engine oil level
Check the engine oil level through the sight glass (1) on the right-hand side of the oil sump. Stop the engine and allow a few minutes for the oil to settle to a steady level. Oil level must be checked with the vehicle perfectly upright and the engine cold. The oil must be between the m ...