Ducati Diavel Service Manual: Steering angle adjustment
Loosen the nuts (17) and adjuster screws (16) on both sides of the bottom yoke.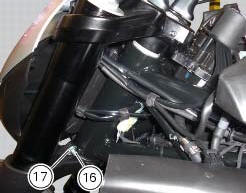 Use a 6 to 6.5 Mm spacer (a) fitted to the fork outer tube, or use a gauge.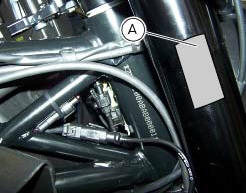 Turn the front forks to the right until the spacer (a) is seated against the frame top tube.
Tighten the adjuster screw (16) to bring it into contact with the stop on the steering head.
Apply threadlocker to the thread of nut (17). Hold the adjuster screw (16) firm and tighten the nut (17). Turn the forks to the opposite side: and repeat the process to adjust the other dowel and tighten the relative lock nut.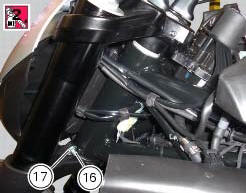 Once adjusted, set handlebar completely turned right and ensure that the gap between front brake line and lower frame trellis is at least 1 mm. If it is not so, decrease steering angle by working the right-hand adjuster.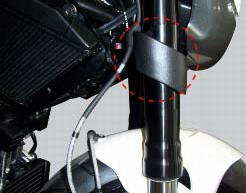 Note To adjust the steering bearing clearance, follow what is described in sect. 4 - 3, Adjusting the steering head bearings. If the problems found are not solved, check the wear of steering beari ...
Note All parts fitted to the top and bottom yokes, including the wiring and control cables, can remain on the motorcycle provided they do not hinder the following operations. Loosen the screw ...
Other materials:
Tips for use on the track
We recommend level 8 be used for a couple of full laps (to allow the tyres to warm up) in order to get used to the system. Then try levels 7, 6, etc., In succession until you identify the dtc intervention level that suits you best (always try each level for at least two laps to allow the tyres t ...
Changing the engine oil and filter cartridge
Note This operation has to be carried out with hot engine (but turned off) because the oil in these conditions is more fluid and its evacuation is faster and complete. Remove the drain plug (3) with seal (a) from the oil sump and allow the oil to drain off. Warning Dispose of oil and/or fil ...
Indicator cons. Avg - average fuel consumption
This function indicates the "average" fuel consumption. The calculation is made considering the quantity of fuel used and the km travelled since the last trip 1 reset. When trip 1 is reset, the value is set to zero and the first available value is shown on the display 10 seconds after the re ...