Ducati Diavel Service Manual: Gearbox shafts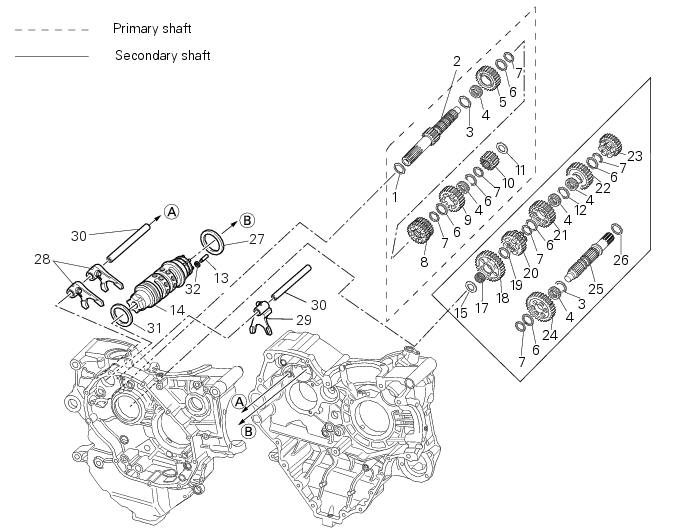 Shim, thickness 1
Gearbox primary shaft
Shim, thickness 0.5
Needle roller bearing
5Th speed driving gear
Splined washer, thickness 0.5
Circlip
3Rd- 4th speed driving gear
6Th speed driving gear
2Nd speed driving gear
Shim, thickness 1.8
Splined washer, thickness 0.5
Special needle roller (square cross-section)
Selector drum
Shim washer
Selector drum assembly
Needle roller bearing
1St speed driven gear
Shim, thickness 1
5Th speed driven gear
4Th speed driven gear
3Rd speed driven gear
6Th speed driven gear
2Nd speed driven gear
Gearbox secondary shaft
Shim washer
Shim, thickness 1
1St, 4th- 2nd, 3rd speed selector fork
5Th, 6th speed selector fork
Selector fork shaft
Shim, thickness 1
Needle roller retaining circlip (square cross-section)
Spare parts catalogue
Diavel abs gearchange control
Diavel abs gearbox
Diavel carbon abs gearchange control
Diavel carbon abs gearbox
Important
Bold reference numbers in this section identify parts not shown in the figures alongside the text, but which can be found in the exploded view diagram.
Position the gearbox drum selector fork in the centre of the gear rollers. Position the gear selector lever (21) together with control shaft, spring and plate into the chain-side crankcase half. ...
Withdraw the selector fork shafts (30). Move the forks (28) and (29) to disengage them from the slots in the selector drum (14). Withdraw the selector drum (16) taking care not to lose s ...
Other materials:
On-board computers and the can line
The following on-board computers make up the electrical system of the diavel and are connected with each other via the can line (or network): Master dashboard Slave dashboard Hands free (facilitated keyless start system) Ecu (engine control unit) Bbs (black box system or central elect ...
Reassembly of the cylinder head
The exhaust side can be identified by the three threaded holes on the flange. The intake side can be identified by the presence of four threaded holes on the flange. All the photos in this chapter refer to a vertical cylinder head. Valve guide sealing rings Position the cylinder head o ...
Overhaul of the connecting rods
Make the following dimensional checks on the connecting rods: Clearance with gudgeon pin on assembly. In the event of excessive wear (sect. 3 - 1.1, Crankshaft), replace the connecting rod. The small end bushing must be in good condition and firmly driven into its seat. Check for para ...