Ducati Diavel Service Manual: Gearbox shafts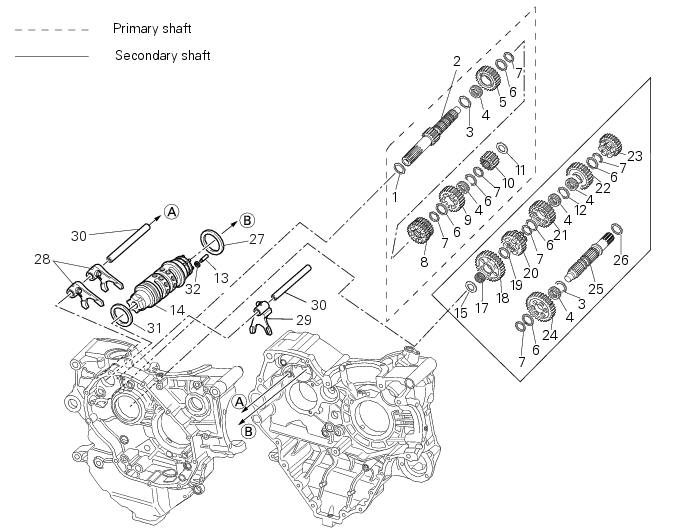 Shim, thickness 1
Gearbox primary shaft
Shim, thickness 0.5
Needle roller bearing
5Th speed driving gear
Splined washer, thickness 0.5
Circlip
3Rd- 4th speed driving gear
6Th speed driving gear
2Nd speed driving gear
Shim, thickness 1.8
Splined washer, thickness 0.5
Special needle roller (square cross-section)
Selector drum
Shim washer
Selector drum assembly
Needle roller bearing
1St speed driven gear
Shim, thickness 1
5Th speed driven gear
4Th speed driven gear
3Rd speed driven gear
6Th speed driven gear
2Nd speed driven gear
Gearbox secondary shaft
Shim washer
Shim, thickness 1
1St, 4th- 2nd, 3rd speed selector fork
5Th, 6th speed selector fork
Selector fork shaft
Shim, thickness 1
Needle roller retaining circlip (square cross-section)
Spare parts catalogue
Diavel abs gearchange control
Diavel abs gearbox
Diavel carbon abs gearchange control
Diavel carbon abs gearbox
Important
Bold reference numbers in this section identify parts not shown in the figures alongside the text, but which can be found in the exploded view diagram.
Position the gearbox drum selector fork in the centre of the gear rollers. Position the gear selector lever (21) together with control shaft, spring and plate into the chain-side crankcase half. ...
Withdraw the selector fork shafts (30). Move the forks (28) and (29) to disengage them from the slots in the selector drum (14). Withdraw the selector drum (16) taking care not to lose s ...
Other materials:
Removing of the cylinder head pulley/fixed tensioner
Insert the tool code 88713.1806 In the pulleys to lock their rotation and use the bush supplied to loosen the fixing nuts (21) of the pulleys. important On reassembly, always use new nuts. Remove the nuts (21) and the pulleys (11) from the camshafts. Loosen the nut (8), and remove the was ...
Operating principle of dtc
The bbs receives the front and rear speed information from the abs over the can. Then, the bbs sends the vehicle speed information to be displayed on the dashboard over the can. If the tangential speed of the rear wheel exceeds the tangential speed of the front wheel by a given percentage, t ...
Riding mode set indication
This function indicates the "riding style" set for the vehicle. Three "riding modes" are available: sport, touring and urban. Each riding mode can be changed using the "riding mode" function. Note The background of the riding mode (sport, touring or urban) i ...