Ducati Diavel Service Manual: Adjusting the clutch lever and front brake lever
The clutch lever (1) is fitted with a span adjuster (2) which serves to alter the distance of the lever from the handlebar.
The lever distance can be adjusted through 10 clicks of the dial (2). Turn clockwise to increase lever distance. Turn the adjuster counter clockwise to decrease lever distance.
When the clutch lever (1) is operated, drive from the engine to the gearbox and the drive wheel is disengaged. Correct use of the clutch lever is very important in all riding situations, especially when moving off.
The position of the front brake lever (3) can be adjusted in the same way.
Warning
Any adjustment of clutch and brake levers must only be carried out when motorcycle is stationary.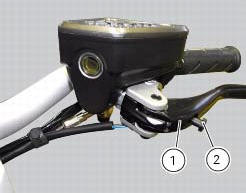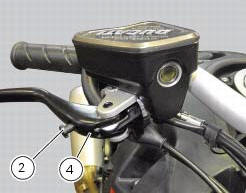 The throttle grip in all steering positions must have free play, measured on the periphery of the flange of the grip, of 1.5 - 2.0 Mm. If necessary, adjust using the adjusters (1) and (2) loca ...
The position of the gear change and rear brake pedals in relation to the footrests can be adjusted to suit the preferred riding position. To modify the gear change pedal position act in the foll ...
Other materials:
Checking the camshafts and supports
Check the cam contact surfaces for scratches, grooves, steps and waving. Worn cams are frequently the cause of poor timing, which leads to loss of engine power. Place the camshaft between two centres and check the run-out on the areas indicated using two dial gauges. Service limit: 0.1 ...
Overhauling the front forks
Note It is advisable to loosen the top cap (14) when the fork is still fitted to the motorcycle. Note The specific tools for the revision of the fork, are described in sect. 3 - 4, Specific tools for the frame. Loosen the spring preload adjuster before unscrewing the plug (14). Unscrew th ...
Operating principle and characteristics of the ride-by-wire system
The engine control system of the diavel uses a ride-by-wire system with motorised throttle valves. This eliminates all direct connection with metal cables between the throttle grip and the throttle valves themselves. Cables are used to rotate the aps potentiometer, which generates an electric ...