Ducati Diavel Service Manual: Adjusting the position of the gear change and rear brake pedals
The position of the gear change and rear brake pedals in relation to the footrests can be adjusted to suit the preferred riding position.
To modify the gear change pedal position act in the following mode: hold the linkage (1) and slacken the counter nuts (2) and (3).
Note
Nut (2) has a left-hand thread.
Fit an open-end wrench to hexagonal element of linkage (1) and rotate until setting pedal in the desired position.
Tighten both check nuts onto linkage.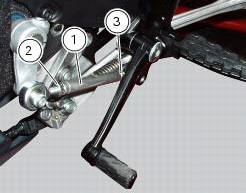 To adjust the position of the rear brake pedal, proceed as follows.
Loosen counter nut (4).
Turn pedal travel adjusting screw (5) until pedal is in the desired position.
Tighten the counter nut (4).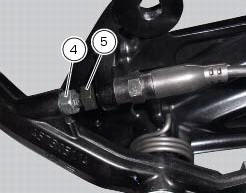 Work pedal by hand to make sure it has 1.5 - 2 Mm free play before brake begins to bite.
If not, check to modify the length of the cylinder push-rod in the following mode.
Slacken off the counter nut (7) on the pushrod.
Screw the rod into the fork (6) to increase play, or unscrew it to reduce play.
Tighten the counter nut (7) and recheck the pedal free play.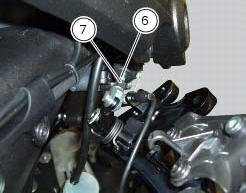 The clutch lever (1) is fitted with a span adjuster (2) which serves to alter the distance of the lever from the handlebar. The lever distance can be adjusted through 10 clicks of the dial (2). T ...
The front fork used on this motorcycle has rebound, compression and spring preload adjustment. This adjustment is done using the outer adjusters: Rebound damping; Inner spring preload; Co ...
Other materials:
Throttle twistgrip
Upper clamp Counterweight Screw Handlebar Grips Throttle twistgrip Bush Screw Bush Throttle cables Spare parts catalogue Diavel abs handlebar and controls Diavel carbon abs handlebar and controls Important Bold reference numbers in this section identify parts not sh ...
Electrical components support
Clip Screw Voltage regulator Battery fixing bracket Battery support Vibration damper mount Hose clip Vibration damper mount Clip Washer Screw Cover Cable grommet Battery Battery mat Screw Bracket Solenoid starter Spring washer Spacer Screw Horn Scre ...
Airbox - throttle body
Airbox O-ring Injector Throttle body assembly Screw Clamp Intake manifold Screw Pressure sensor Screw Clamp Hose Sealing washer Intake manifold Sealing washer Screw Screw Spacer Bracket Rubber pad Clamp Hose Clamp Union Washer Hose Cable gro ...