Ducati Diavel Service Manual: Adjusting the front fork
The front fork used on this motorcycle has rebound, compression and spring preload adjustment.
This adjustment is done using the outer adjusters:
Rebound damping;
Inner spring preload;
Compression damping.
Park the motorcycle in a stable position on its side stand.
Turn the adjuster (1) on fork leg top with a flat screwdriver to adjust rebound damping.
On the carbon model, adjustment is done using the knob (b) on the fork leg, without a screwdriver.
Turn the adjuster (3) on fork leg bottom with a flat screwdriver to adjust compression damping.
As you turn the adjusters (1) and (3), you will hear them click. Each click corresponds to different damping setting.
The stiffest damping setting is obtained with the adjuster turned fully clockwise to the "0" position. Starting from this position, turning counter clockwise, you can count the turns.
To change preload of the spring inside each fork leg, turn the hex. Adjuster (2) with a 22 mm hexagon wrench, starting from the fully open position (clockwise). From reference (a), every full turn clockwise corresponds to 1 mm of preload of the spring, up to a maximum of 15 mm, corresponding to 3 full turns.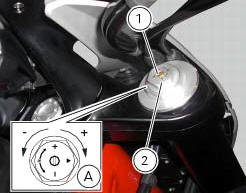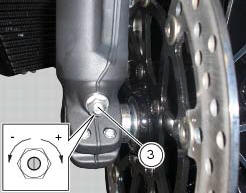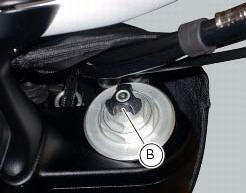 Standard settings, from fully open position, are as follows: compression: 1 turn and a half; rebound: 1 and a half turns.
Spring preload: fully open (counter clockwise).
Important
Adjust both fork legs to same settings.
The position of the gear change and rear brake pedals in relation to the footrests can be adjusted to suit the preferred riding position. To modify the gear change pedal position act in the foll ...
The adjuster (1) located on the lower connection holding the shock absorber to the swingarm adjusts the damping during the rebound phase (return). The knob (2), located on the left side of the m ...
Other materials:
Stored lap erase function
This function erases the stored laps. To access the function it is necessary to view the "setting" menu page 48, using button (1, fig. 14) ?"" or (2, fig. 14) ?"" select the "lap" function and press the reset button (12, fig. 12) To go to next page. ...
Abs diagnosis
Note The on-screen icons used during this procedure are explained in a table at the end of this section. If the abs system is not working correctly, system diagnosis is possible through the dds diagnosis instrument. Turn on the dds diagnosis instrument (1) referring to the paragraph "tester ...
Refitting the rear mudguard
Place the rear mudguard (8) on the swingarm, fitting the screws (9) with recommended threadlocker. The screw (9) in the bottom hole of the rear mudguard (8) must be installed with the washer (r). Tighten the screws (9) to a torque of 5 nm +/- 10% (sect. 3 - 3, Frame torque settings). ...