Ducati Diavel Service Manual: Adjusting the front fork
The front fork used on this motorcycle has rebound, compression and spring preload adjustment.
This adjustment is done using the outer adjusters:
Rebound damping;
Inner spring preload;
Compression damping.
Park the motorcycle in a stable position on its side stand.
Turn the adjuster (1) on fork leg top with a flat screwdriver to adjust rebound damping.
On the carbon model, adjustment is done using the knob (b) on the fork leg, without a screwdriver.
Turn the adjuster (3) on fork leg bottom with a flat screwdriver to adjust compression damping.
As you turn the adjusters (1) and (3), you will hear them click. Each click corresponds to different damping setting.
The stiffest damping setting is obtained with the adjuster turned fully clockwise to the "0" position. Starting from this position, turning counter clockwise, you can count the turns.
To change preload of the spring inside each fork leg, turn the hex. Adjuster (2) with a 22 mm hexagon wrench, starting from the fully open position (clockwise). From reference (a), every full turn clockwise corresponds to 1 mm of preload of the spring, up to a maximum of 15 mm, corresponding to 3 full turns.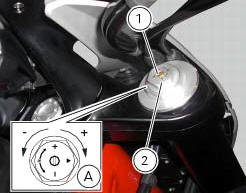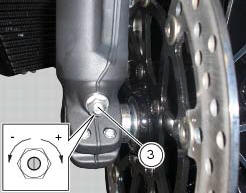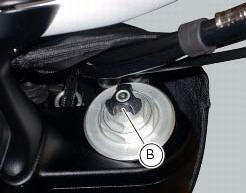 Standard settings, from fully open position, are as follows: compression: 1 turn and a half; rebound: 1 and a half turns.
Spring preload: fully open (counter clockwise).
Important
Adjust both fork legs to same settings.
The position of the gear change and rear brake pedals in relation to the footrests can be adjusted to suit the preferred riding position. To modify the gear change pedal position act in the foll ...
The adjuster (1) located on the lower connection holding the shock absorber to the swingarm adjusts the damping during the rebound phase (return). The knob (2), located on the left side of the m ...
Other materials:
Indicating devices
Checking the indicating devices In the event of a fault, the internal connections of the device must be checked in all operating conditions. To do this, it is necessary to disconnect the switch connector from the main wiring harness (sect. 6 - 1, Routing of wiring on frame). Then analyse th ...
Deactivating the service indication on the dashboard
The message "serv" is displayed on the dashboard, indicating that the motorcycle should be serviced in accordance with the programmed maintenance plan. This indication is activated after the first 1000 km and thereafter at intervals of 12000 km. After the scheduled service has been carried ...
Lh switch
Dip switch, light dip switch, two positions (fig. 89): (A) every time pressed down light switches from low beam on to low beam and high beam on . (B) pushed to the side = high beam flasher (flash), "start-stop lap" function. Button = three-position turn indicator ...