Ducati Diavel Service Manual: Checking the coolant level
To the specified intervals in the "scheduled maintenance chart" (sect. 4 - 2) Check the coolant level contained in the expansion reservoir, on the right side of the vehicle.
The coolant level must be between the max. And min marks on the tank.
If the level is low, top up with the recommended coolant.
Remove the filler cap (1) and top up with new coolant to the specified level.
Refit the plug (1).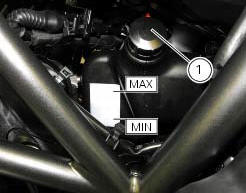 For optimal operating conditions (coolant mixture starting to freeze at -20 C), the recommended fluid antifreeze should be mixed with water in the following percentages: antifreeze: 35 to 40% of the volume; water: 65 to 60% of the volume.
Important
Very hard water with a high mineral salt content can damage the engine.
Increase the amount of antifreeze to up to 55% volume in the case of very cold climates.
Important
Solutions with less than 30% of antifreeze will not provide sufficient protection against corrosion.
The air filter must be replaced at the intervals described in the "scheduled maintenance chart" (sect. 4 - 2). Work on the vehicle right side, loosen screws (1) that secure the intake duct (2 ...
Warning This operation must only be carried out when the engine is cold. Attempting to change the coolant with the engine hot could lead to burns from hot coolant or scalding steam. Place a con ...
Other materials:
Low battery level
The activation of this (amber yellow) "warning" indicates that the status of the battery vehicle is low. It is activated when the battery voltage is . 11.0 Volt. Note In this case, ducati recommends charging the battery as soon as possible with the specific device, as it is possibl ...
Gearbox shafts
Shim, thickness 1 Gearbox primary shaft Shim, thickness 0.5 Needle roller bearing 5Th speed driving gear Splined washer, thickness 0.5 Circlip 3Rd- 4th speed driving gear 6Th speed driving gear 2Nd speed driving gear Shim, thickness 1.8 Splined washer, thickness 0.5 Sp ...
Shimming the shafts
Before assembling the crankcase halves, calculate the shims required to obtain the correct end float of the crankshaft and gearbox shafts. To determine the correct shim thickness proceed as follows. Shimming the crankshaft After having installed the new main bearings (with bushing (a) or ...