Ducati Diavel Owners Manual: Engaged gear indicator
This function displays the gears (1, fig. 25).
The instrument panel receives information and indicates the engaged gear or "n" for neutral.

Note
In the case of a gear sensor "error", a dash "-" (not flashing) will be displayed.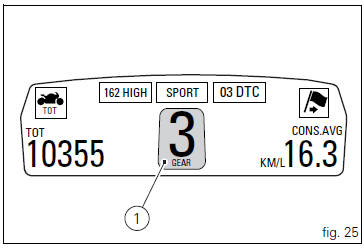 This function shows the external temperature. Display limits: -39C ÷ +124C In the event of a sensor fault (-40C,+125C or disconnected), a string of dashes "- - -" (not flashing) is ...
This function indicates the "riding style" set for the vehicle. Three "riding modes" are available: sport, touring and urban. Each riding mode can be changed using the &quot ...
Other materials:
Oil cooler
Oil cooler Vibration damper mount Spacer Screw Nipple Aluminium gasket Oil delivery hose Screw Plate Bracket Screw Engine oil pressure sensor Sealing washer Heat guard Exhaust protection Screw Washer Spacer Spare parts catalogue Diavel abs oil cooler Dia ...
Noise and exhaust emission control system information
Source of emissions The combustion process produces carbon monoxide and hydrocarbons. Control of hydrocarbons is very important because under certain conditions, they react to form photochemical smog when subjected to sunlight. Carbon monoxide does not react in the same way, but is toxic. Duca ...
Water radiators
Clip nut Spacer Vibration damper mount Screw Screw Spacer Vibration damper mount Clip nut Bush Spacer Rear sprocket Screw Water radiator (right) Screw Screw Air deflector (right) Special screw Electro-fan Screw Vibration damper mount Screw Plug Half ...