Ducati Diavel Service Manual: Overhaul of the gearbox
Check the condition of the front coupling dogs of the gears. They must be in perfect condition and with no sign of wear on the edges of the teeth.
The idler gears must rotate freely on their shafts.
When refitting, make sure the circlips are correctly positioned.
Check the needle roller bearings for wear.
The threads and splines of the shafts must be in perfect condition.
Also check that the component parts of the gear selector mechanism are in good condition.
Engage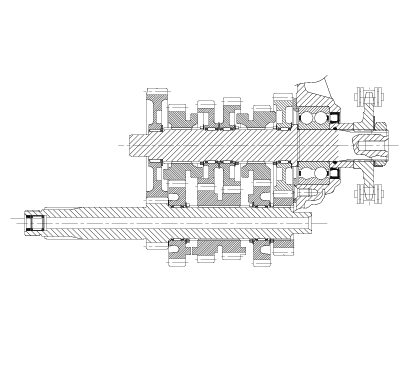 Engage the gears and check that the gearchange mechanism does not stick (selector fork - gear groove, and fork pin - desmodromic drum groove) due to incorrect end float. Restore the correct end float by shimming the gearbox shafts and the selector drum with suitable shims.
For the total gearbox shaft and selector drum end clearance values, refer to sect. 3 - 1.1, Gearbox.
Place the shaft in a vice in such a way as to facilitate the disassembly operations. Important Take care not to invert the positions of the shims on reassembly: this would potentially lead to jam ...
Visually inspect the gear selector forks. Bent forks must be renewed as they may lead to difficulties in gear changing or may suddenly disengage when under load. Use a feeler gauge to check the ...
Other materials:
Checking engine oil level
Check the engine oil level through the sight glass (1) on the clutch cover. When checking oil level, the motorcycle should be perfectly upright and the engine cold. The oil level should be between the two marks next to the sight glass. If level is low, top up with shell advance ultra 4 engine oi ...
Low battery level
The activation of this (amber yellow) "warning" indicates that the status of the battery vehicle is low. It is activated when the battery voltage is . 11.0 Volt. Note In this case, ducati recommends charging the battery as soon as possible with the specific device, as it is possibl ...
Indicator cons. Avg - average fuel consumption
This function indicates the "average" fuel consumption. The calculation is made considering the quantity of fuel used and the km travelled since the last trip 1 reset. When trip 1 is reset, the value is set to zero and the first available value is shown on the display 10 seconds afte ...