Ducati Diavel Service Manual: Removal of the front brake system

Note
For the abs front braking system, also refer to sect. 7 - 5, Abs system operating information, sect. 7 - 6, System components, sect. 7 - 7, Abs components maintenance.
Undo the special screw (3), collect the sealing washers (4), and release the front brake master cylinder assembly (1) from the pipe.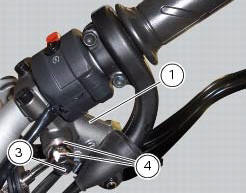 Tighten the screw (16) and slide the front brake pipe (13) from the bracket (17) on the yoke base.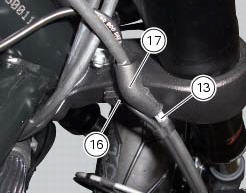 Loosen screw (c) to remove front brake hose (20) and the abs sensor cable (a) from hose clip (b).
Warning
While removing the front brake hose, if you damage the hose clip (b) you shall renew it (sect. 5 - 4, Removal of the front mudguard).
If hose is not fastened by hose clip (b), it might interfere with tyre under braking and provoke accidents.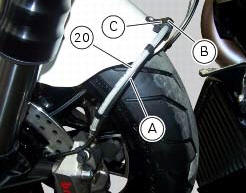 Unscrew the two fixing screws (21) of the left front brake calliper (9) to the fork leg.
Repeat the operation for the right brake calliper (18).
Undo the special screws (19) and (25) and collect, from both callipers, the sealing washers (4).
Detach the front brake callipers from the pipe (13) and (20).
Removal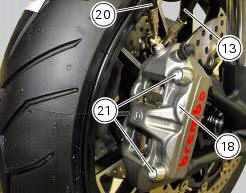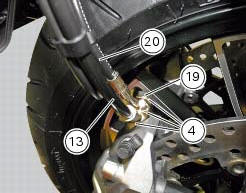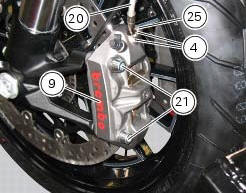 Warning Brake fluid is corrosive and will damage paintwork. Avoid contact with eyes and skin. In case of accidental contact, wash the affected area with abundant running water and consult a doctor ...
The front brake discs consist of an inner carrier, which is mounted to the wheel, and an outer rotor. Both parts must be changed together as a pair. Remove the front wheel (sect. 7 - 1, Removal ...
Other materials:
Headlight aim
The motorcycle must be perfectly upright with the tires inflated to the correct pressure and with a rider seated, perfectly perpendicular to the longitudinal axis. Position the motorcycle 10 metres from a wall or a screen. On the wall or surface, draw a horizontal line at the same height fr ...
Hydraulic clutch control
Special screw Sealing washer Clutch master cylinder Clutch hydraulic pipe (metal braid) Screw Spare stand Washer Microswitch Pin Bleed valve Screw Roller O-ring Clutch control rod Clutch lever Dust cap Bleed valve Special screw Sealing washer Boot Plug ...
Refitting the brake disks
Before refitting the brake disc to the wheel, clean all contact surfaces thoroughly and smear a medium strength threadlocker on the threads of retaining screws (5). Operating on the left side, fit the phonic wheel (6). Tighten the fixing screws (5) of the brake disk (7) to the wheel followi ...