Ducati Diavel Service Manual: Reassembly of the gearbox
To refit the gearbox components follow the procedure under sect. 9 - 9.2, Reassembly of the crankcase halves, relating to reassembly of the engine crankcase.
As a final practical test, ensure that with the gearbox in neutral the front coupling dogs (a) of sliding gears (b) are equidistant on both sides with respect to the corresponding coupling dogs on the fixed gears (c).
Check also that there is always a small amount of clearance between fork (d) and relative groove (e) on sliding gear (b) when engaging the gears.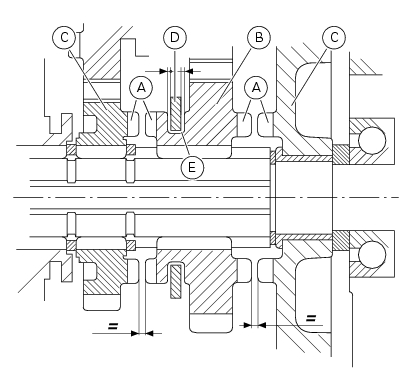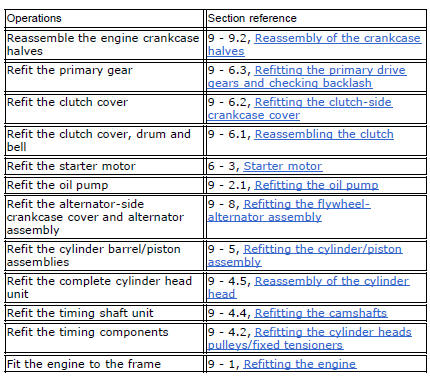 Figure 1 shows all the parts to be reassembled on the gearbox primary shaft (2), with the calculated end shims (1) and (11) (sec. 9 - 9.2, Reassembly of the crankcase halves). Figure 2 shows a ...
Screw Alternator stator Plug Sealing ring O-ring Cover Screw Aluminium gasket Screw Bracket Locating bush Screw generator cover Flange Flanged nut Plane washer F ...
Other materials:
Refuelling
Never overfill the tank when refuelling. The fuel level should always be below the rim of the filler recess. Warning Use low-lead fuel with 95 octane rating at origin minimum (see "top-ups" table, page 173). Check that no fuel is trapped in the filler cap recess. ...
Refitting the number plate holder
Place the number plate light (5), as indicated, on the number plate holder plate (8) and tighten the screws (7) to a torque of 2 nm +/- 10% (sect. 3 - 3, Frame torque settings). Thread the number plate light wiring (c) into the opening in the number plate holder plate as shown. Fit ...
"Parking" function
This function activates the "parkin"h mode. The "parkin"h function activates the front and rear parking lights when the vehicle is turned off so it is visible when parked. The function is activated by pressing the button (2, fig. 14) ?"´" for 3 seconds du ...