Ducati Diavel Service Manual: Reassembly of the gearbox
To refit the gearbox components follow the procedure under sect. 9 - 9.2, Reassembly of the crankcase halves, relating to reassembly of the engine crankcase.
As a final practical test, ensure that with the gearbox in neutral the front coupling dogs (a) of sliding gears (b) are equidistant on both sides with respect to the corresponding coupling dogs on the fixed gears (c).
Check also that there is always a small amount of clearance between fork (d) and relative groove (e) on sliding gear (b) when engaging the gears.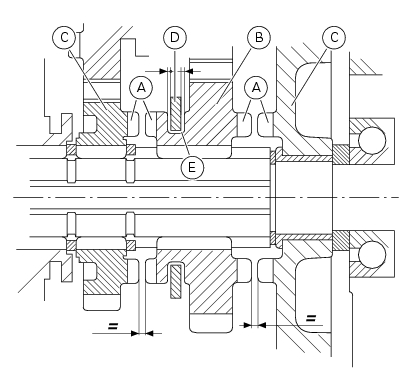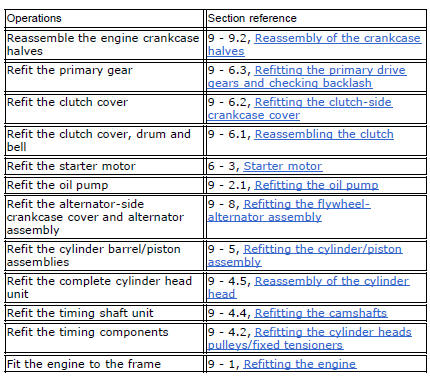 Figure 1 shows all the parts to be reassembled on the gearbox primary shaft (2), with the calculated end shims (1) and (11) (sec. 9 - 9.2, Reassembly of the crankcase halves). Figure 2 shows a ...
Screw Alternator stator Plug Sealing ring O-ring Cover Screw Aluminium gasket Screw Bracket Locating bush Screw generator cover Flange Flanged nut Plane washer F ...
Other materials:
Overhaul of the connecting rods
Make the following dimensional checks on the connecting rods: Clearance with gudgeon pin on assembly. In the event of excessive wear (sect. 3 - 1.1, Crankshaft), replace the connecting rod. The small end bushing must be in good condition and firmly driven into its seat. Check for para ...
Low beam lights not working
Location of connections and components (A) injection relay; (b) etv relay (throttle valve operating engine); (c) radiator fan relay; (d) hands free relay. Fuses located at the rear left of the vehicle. (1) 10A dashboard; (2) 5a engine control unit; (3) 15a key-sense; (4) 20a injecti ...
Removing of the front sprocket
Undo the screws (11) and remove the chain cover (10). Loosen the chain (sect. 4 - 3, Adjusting the chain tension). Remove the chain with the tool code 88713.1344. The tool is composed of a holder (a), punch (b), body (c) and two wrenches (d) and (e). Fit the link to be opened into th ...