Ducati Diavel Service Manual: Refitting the idler and tensioner pulley mounting studs
Apply the recommended threadlocker to the threads of the studs.
Insert the tensioner pins (12) on the cylinder heads, and tighten them using the tool code 88713.1821.
Tighten the tensioner pins to a torque of 50 nm (min. 45 Nm - max. 55 Nm) (sect. 3 - 3, Engine torque settings).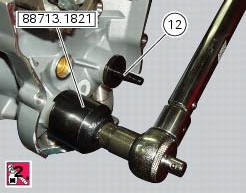 To fit the circlip (10) in the driveshaft seat, use the tool code 88713.2834. Install the inner spacer (17) on the driveshaft, taking care to align the notch in the spacer with the slot for the ...
Fit the pulley (11) on the flange (24), aligning the timing mark (d) on the pulley with the timing mark on the (e) on the flange. Install the washer (23) up against the pulley, aligning the timi ...
Other materials:
Adjusting the rear shock absorber
The rear shock absorber has external commands that enable you to adjust the setting to suit the load on the motorcycle. The adjuster (1, fig. 111) Located on the lower connection holding the shock absorber to the swingarm adjusts the damping during the rebound phase (return). The knob (2, f ...
Overhaul of the flywheel-alternator assembly
Examine the inner part of alternator rotor (24) for signs of damage. Check that the starter clutch is working properly and that the needle races do not show signs of wear or damage of any kind. If there is any malfunction, remove the whole assembly. Disassembling the generator flywheel U ...
Dds diagnosis instrument
The main functions of the dds diagnosis instrument can be summarised as follows: Retrieval of errors (faults) of the ignition-injection system stored in the engine control unit memory and their subsequent deletion, if required. Reading of engine parameters (rpm, coolant and air temperat ...