Ducati Diavel Service Manual: Refitting the timing belt driveshaft pulleys
To fit the circlip (10) in the driveshaft seat, use the tool code 88713.2834.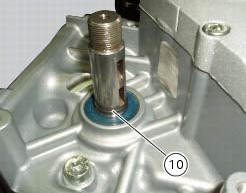 Install the inner spacer (17) on the driveshaft, taking care to align the notch in the spacer with the slot for the woodruff key.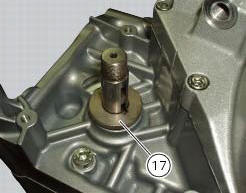 Fit the first woodruff key (16) on the timing belt driveshaft.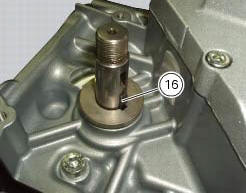 Locate the inner pulley (18).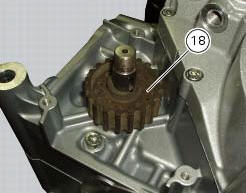 Refit the second tongue (16) and the washer (19).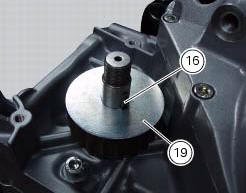 Locate the outer pulley (18) and the spacer (20).
Apply the recommended grease to the threads on the end of the driveshaft.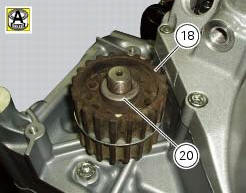 Fit the nut (15).
Important
To prevent the nuts working loose and consequent serious engine damage, always use new self-locking nuts on all the timing belt pulleys on reassembly.
Lock rotation of the pulleys by means of the tool part no. 88713.1805 And, using the insert supplied with the wrench together with a torque wrench, tighten the self-locking nut to the torque of 71 nm (min. 64 Nm - max. 78 Nm) (sect. 3 - 3, Engine torque settings).
Use the tool code 88713.1805 To hold the driving pulley on the engine crankcase against rotation. Important If this operation is carried out with the engine installed in the frame, hold the driv ...
Apply the recommended threadlocker to the threads of the studs. Insert the tensioner pins (12) on the cylinder heads, and tighten them using the tool code 88713.1821. Tighten the tensioner pin ...
Other materials:
Disassembly of the clutch cover
Remove the plug (14) and its o-ring (13), the plug (17) and its o-ring (15) from the cover. Undo the fixing screw (16) of the inner cover (19). Remove the inner cover (6) and soundproofing panel (18). Remove the circlip (10) and withdraw the shim (9) and the sealing ring (8). The dri ...
Fuel system circuit
The fuel system circuit consists of: An electric pump, driven by the injection relay, which is in turn controlled by the ecu (engine control unit) A fuel filter A pressure regulator Two injectors (one per cylinder, located downstream of throttle valve) The plastic mounting shown in t ...
Engine torque settings
*Dynamic safety-critical point; tightening torque must be within nm +/-5%. Note For product specifications and symbols, refer to paragraph "product specifications" (sect. 1 - 2). ...