Ducati Diavel Service Manual: Reassembly of the timing pulleys
Fit the pulley (11) on the flange (24), aligning the timing mark (d) on the pulley with the timing mark on the (e) on the flange.
Install the washer (23) up against the pulley, aligning the timing notch (f) with the timing marks on the pulley and the flange.
Insert the three screws (22) in the threaded holes (g) of the flange.
Tighten the screws (22) to a torque of 10 nm (min. 9 Nm - max. 11 Nm) (sect. 3 - 3, Engine torque settings).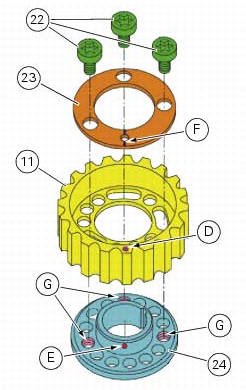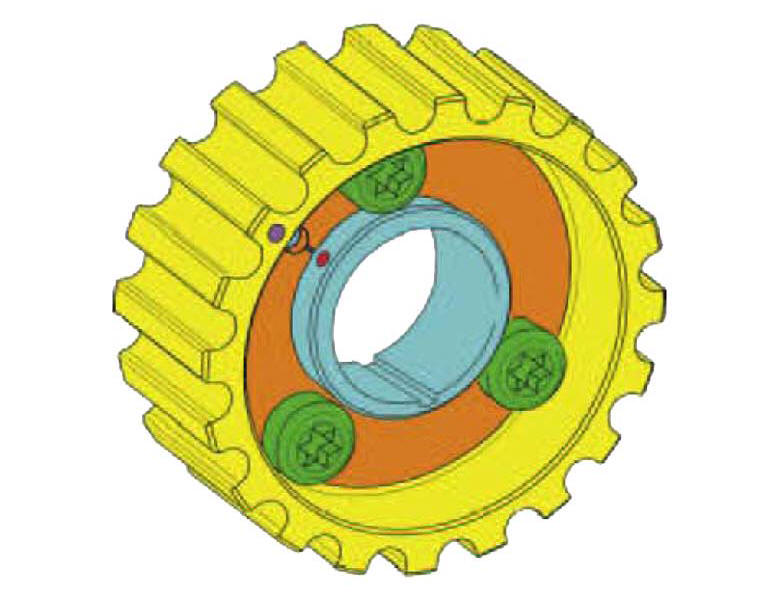 Apply the recommended threadlocker to the threads of the studs. Insert the tensioner pins (12) on the cylinder heads, and tighten them using the tool code 88713.1821. Tighten the tensioner pin ...
Check that the keyway on the end of the camshaft is in good condition and without burrs. Fit a woodruff key (b) in the keyway of each camshaft. Fit the pulley (11) on the camshaft, inserti ...
Other materials:
Replacing the high and low beam bulbs
Before replacing a burnt-out bulb, make sure that the new bulb complies with the voltage and wattage specified in the "wiring diagram", page 179. Always test the new bulb before refitting any parts you have removed. Fig. 150 Shows the locations of the low beam bulbs (lo), high beam ...
Inspection of the gear selector drum
Use a gauge to measure the clearance between fork pin and the slot on the selector drum. If the service limit is exceeded, determine which part must be replaced by comparing these dimensions with those of new components (sect. 3 - 1.1, Gearbox). Also check the wear on the drum support pin ...
Refitting the cylinder/piston assembly
If new units are used, it is necessary to couple the cylinders and pistons of the same selection (see paragraph "overhaul Of the cylinder barrel/piston components" of this section). If the pistons have been separated from their cylinders, before reassembling these components, position the p ...