Ducati Diavel Service Manual: Removal of the camshafts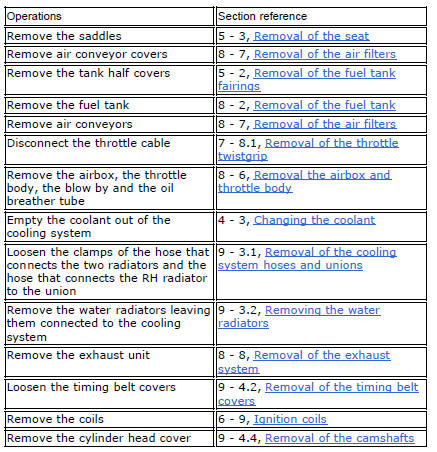 Unscrew and remove the screws (7) and the o-rings (8) from the cylinder head covers.
Remove the cylinder head cover (6).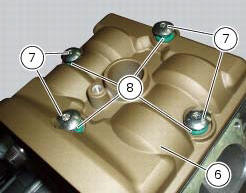 Remove the gaskets (4) and (9).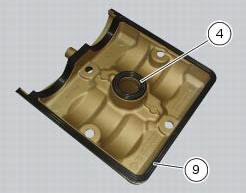 Repeat the same procedure for the other cylinder head cover. Unscrew the screws (3) securing the camshaft supports.
Withdraw the camshaft supports (22) and (23) straight out from the cylinder head, taking care not to damage the machined faces and locating dowels (11).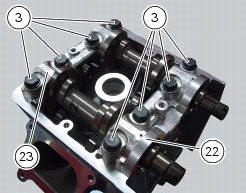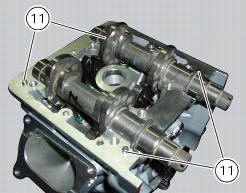 Remove the exhaust camshaft (14) and the intake camshaft (15), and slide off the sealing rings (17) on their ends.
Repeat the same procedure for the other cylinder head.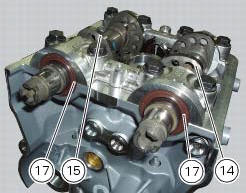 If necessary, unscrew the stud bolts (2) from the cylinder heads.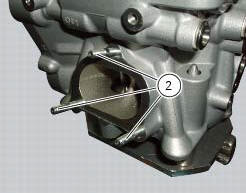 Head Stud bolt Special screw Sealing washer Horizontal cylinder head cover Vertical cylinder head cover Special screw O-ring Head gasket Screw Pin Union Clamp Horizont ...
Check the cam contact surfaces for scratches, grooves, steps and waving. Worn cams are frequently the cause of poor timing, which leads to loss of engine power. Place the camshaft between two ...
Other materials:
Low battery level
The activation of this (amber yellow) "warning" indicates that the status of the battery vehicle is low. It is activated when the battery voltage is . 11.0 Volt. Note In this case, ducati recommends charging the battery as soon as possible with the specific device, as it is possibl ...
Spark plugs replacement
Check the colour of the ceramic insulation around the central electrode: an even, light brown colour indicates the engine is in good condition and running at the right temperature. Inspect the centre electrode for wear and check spark plug gap, which should be: 0.8+/-0.1 Mm. Important ...
Testing the battery charging system
Note The on-screen icons used during this procedure are explained in a table at the end of this section. You can determine the engine rpm required for generator to produce just enough current to charge battery, feed the injection ignition system and all electric items fitted to motorcycle. Wh ...