Ducati Diavel Service Manual: Removal of the gearbox assembly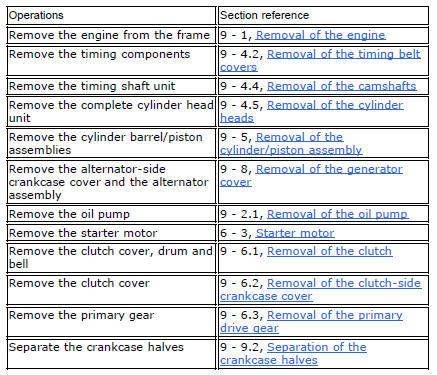 Withdraw the selector fork shafts (30).
Move the forks (28) and (29) to disengage them from the slots in the selector drum (14).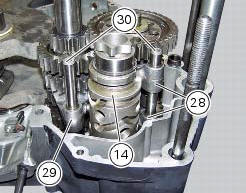 Withdraw the selector drum (16) taking care not to lose shims (31) and (27) mounted on the shaft. Note that the positions of the shims must not be inverted.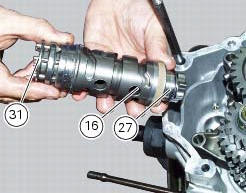 Once removed, it is possible to replace the special rollers (13).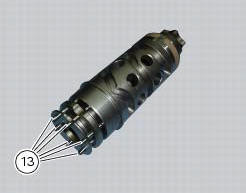 Remove gear selector forks (29) and (28).
Remove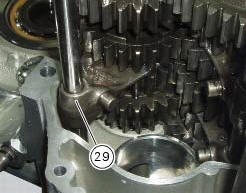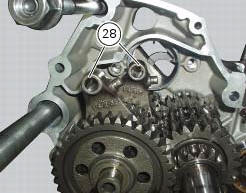 Remove the gearbox primary (2) and secondary (25) shafts complete with gears, taking care to recover the spacers on the ends of the shafts.
If the bearing inner rings (a) are left on the shafts, slide them off the ends of the gearbox primary (2) and secondary (25) shafts (sect. 9 - 9.2, Separation of the crankcase halves).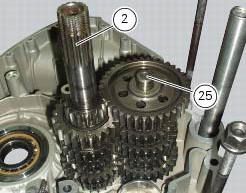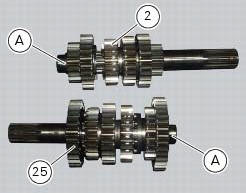 Shim, thickness 1 Gearbox primary shaft Shim, thickness 0.5 Needle roller bearing 5Th speed driving gear Splined washer, thickness 0.5 Circlip 3Rd- 4th speed driving gear 6Th sp ...
Place the shaft in a vice in such a way as to facilitate the disassembly operations. Important Take care not to invert the positions of the shims on reassembly: this would potentially lead to jam ...
Other materials:
Overhauling the front brake components
Important Critical safety components. The brake calliper manufacturer recommends that you do not attempt to service the internal components of the brake callipers. Incorrect overhaul of this component could endanger rider safety. Operations should be limited to renewal of the pads, fasteners ...
Fuel pressure test
Note The on-screen icons used during this procedure are explained in a table at the end of this section. Undo the screws (2) and remove the flange cover (1). Remove one of the two pipes of the fuel system (3). Use the fuel pressure pipe (4) part no. 590.1.189.1A by connecting one e ...
Reassembling the frame and the lateral footrests
Apply the recommended grease to the thread of the pins (9) and of the nuts (8). Place the frame (1) and the brackets (2) and (3) on the engine block. Start the pins (9) by holding the nuts (8) and insert without tightening the screws (6) into the adjusters (4). Position and fix the rear s ...