Ducati Diavel Service Manual: Removal of the gearbox assembly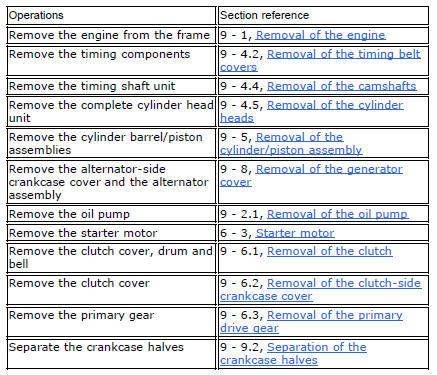 Withdraw the selector fork shafts (30).
Move the forks (28) and (29) to disengage them from the slots in the selector drum (14).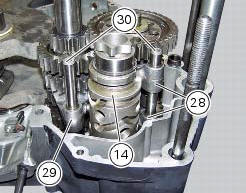 Withdraw the selector drum (16) taking care not to lose shims (31) and (27) mounted on the shaft. Note that the positions of the shims must not be inverted.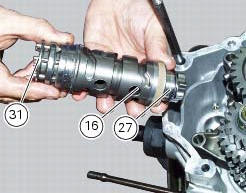 Once removed, it is possible to replace the special rollers (13).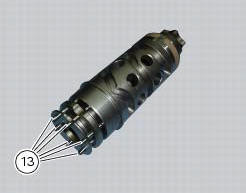 Remove gear selector forks (29) and (28).
Remove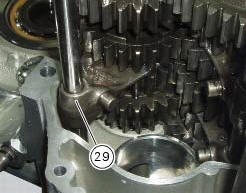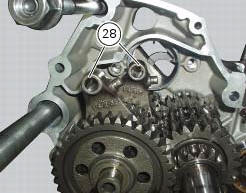 Remove the gearbox primary (2) and secondary (25) shafts complete with gears, taking care to recover the spacers on the ends of the shafts.
If the bearing inner rings (a) are left on the shafts, slide them off the ends of the gearbox primary (2) and secondary (25) shafts (sect. 9 - 9.2, Separation of the crankcase halves).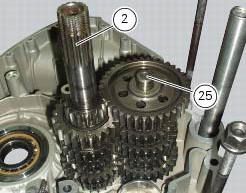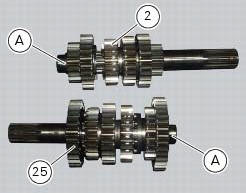 Shim, thickness 1 Gearbox primary shaft Shim, thickness 0.5 Needle roller bearing 5Th speed driving gear Splined washer, thickness 0.5 Circlip 3Rd- 4th speed driving gear 6Th sp ...
Place the shaft in a vice in such a way as to facilitate the disassembly operations. Important Take care not to invert the positions of the shims on reassembly: this would potentially lead to jam ...
Other materials:
Storing the bike away
If the motorcycle is to be left unridden over long periods, it is advisable to carry out the following operations before storing it away: clean the motorcycle; empty the fuel tank; pour a few drops of engine oil into the cylinders through the spark plug bores, then turn the engine over by hand ...
"Parking" function
This function activates the "parkin"h mode. The "parkin"h function activates the front and rear parking lights when the vehicle is turned off so it is visible when parked. The function is activated by pressing the button (2, fig. 14) ?"´" for 3 seconds du ...
Refitting the timing covers
Locate vertical cylinder external cover (25), horizontal cylinder external cover (3) and central external cover (1) by starting the screws (4). Apply the recommended threadlocker to the screws (4). Tighten the screws (4) to a torque of 10 nm (min. 9 Nm - max. 11 Nm) (sect. 3 - 3, Engine t ...