Ducati Diavel Service Manual: Removing of the side stand

Disconnect connector (a) of the stand switch (2) from the main wiring.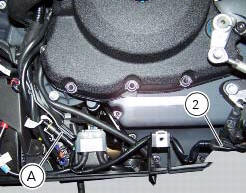 Loosen the screws (3), (10), (11) and (12) securing the stand bracket (4) to the engine and remove the complete side stand assembly.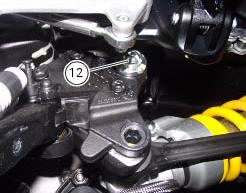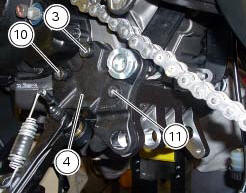 Disassembly of the side stand
Undo the fixing screw (5) and remove the side stand switch (2).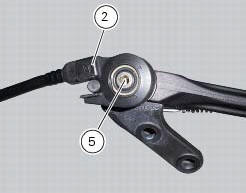 Release the side stand return springs (6) and (7) of the fasteners (a) and (b).
Undo the stand fixing pin (9) to the bracket and remove the side stand (1) and the nut (8).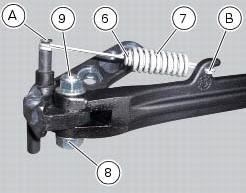 Inspecting the side stand
Fit the side stand leg to the bracket and check that there is no excessive clearance. Ensure that the ends of the side stand are not bent with respect to the shank.
A side stand which shows signs of cracking must be renewed immediately.
To check the switch (2) refer to sec. 6 - 6, Checking the side stand switch.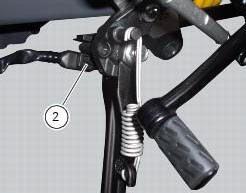 Reassembling of the side stand
Insert the side stand (1), properly greased, in the bracket (4) and fix it with the pivot (9) and the nut (8).
Tighten the nut (8) to the torque of 20 nm +/- 10% (sect. 3 - 3, Frame torque settings).
Position the side stand return springs (6) and (7) and fix them to the fasteners (a) and (b) on the bracket and on the stand.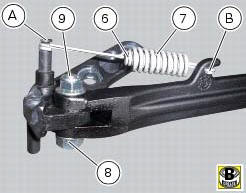 Set switch (2) to plate (4) by inserting sensor pin (c) into side stand hole (d) and making sure side stand pin (e) matches with groove (f) on sensor.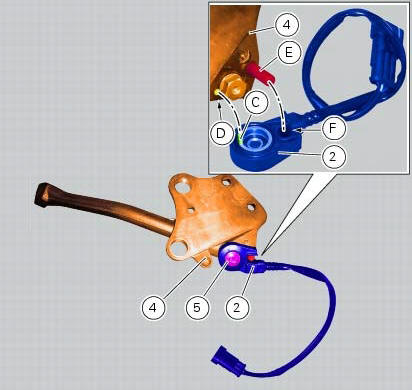 Fit the retaining screw (5) with recommended threadlocker and tighten it to a torque of 5 nm +/- 10% (sect. 3 - 3, Frame torque settings).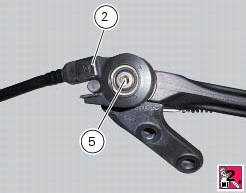 Side stand Side stand switch Screw Plate Screw Inner spring Outer spring Nut Rotation pivot Screw Screw Screw Nut Clearance adjuster Spare parts catalogue Diavel a ...
Place the stand plate on the rear shock absorber support; bring adjuster (14) in line with bracket (s) and start the screw (12) in the nut behind the bracket (s). Insert the screws (11), (3) and ...
Other materials:
Beam setting
When checking beam setting, put the motorcycle upright. Tyres should be inflated at the correct pressure and one person should be sitting astride the motorcycle, keeping it at right angles to its longitudinal axis. Place the motorcycle opposite a wall or a screen, 10 meters apart from it, draw ...
Refitting the rear wheel
Lubricate the wheel shaft threaded end with prescribed grease. Insert the wheel shaft by matching (a) with pins (b). Install spacer (3) with the conical surface faced to the wheel conical surface, washer (2), apply prescribed grease to nut (1) and insert it by hand (1). Tighten the ...
Reassembly of the crankcase halves
The crankcase halves must be in good condition and perfectly clean. The mating surfaces must be perfectly flat and free from burrs. Overhauling the alternator-side crankcase half The following parts must be present on the internal side of the crankcase half: Gearbox secondary shaft bearin ...