Ducati Diavel Service Manual: Removal of the timing belt covers
Loosen the screws (4) securing the central external cover (1) and remove it from the central side.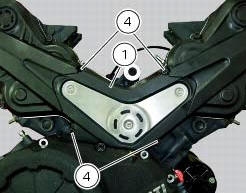 Undo the fixing screws (4) of the external cover (25) and remove it from the vertical thermal unit.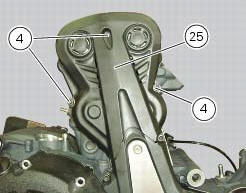 Undo the fixing screws (4) of the external cover (3) and remove it from the horizontal thermal unit.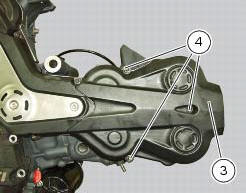 Central external cover Air filter Horizontal cylinder timing belt cover Screw Filter support Screw Washer Nut Tensioner pulley assembly Circlip Camshaft pulley Tensioner p ...
Loosen the nut (8) and remove the washer (7) and the tensioner pulley (9) from the pin (12) on the cylinder head. Remove the timing belt (14) from the horizontal cylinder assembly. Important If ...
Other materials:
Chain lubrication
The chain fitted on your motorcycle has o-rings that keep dirt out of and lubricant inside the sliding parts. So as not to damage these seals when cleaning the chain, use special solvents and avoid aggressive washing with highpressure steam cleaners. After cleaning, blow the chain dry with ...
Radiator fan relay
Introduction The radiator fans are powered via a specific relay, which is enabled by the engine control unit. Component assembling position A injection relay; b etv relay (throttle valve actuator motor), c radiator fan relay, d engine control unit. Location of right hand fan connecti ...
Description of the clutch assembly
The clutch is disengaged by a drive unit consisting of a thrust piston (c) accommodated inside a small cap mounted to the generator cover. This piston (c) pushes a pushrod (b), which runs through gearbox primary shaft and operates the Pressure plate (4) located on top of the clutch plate pack ...