Ducati Diavel Service Manual: Bleeding of the abs hydraulic system
If some "sponginess" is detected on the brake control, due to air bubbles in the system, bleed the system, as indicated in sect. 4 - 3, Changing the brake fluid.
Before bleeding a brake pump, move back the calliper pistons, as indicated in (sect. 4 - 3, Changing the brake fluid) to Drain in the pump the air collected near the abs control unit purge must be carried out by means of the corresponding joints (a) placed near the callipers and the brake pumps.
Important
Do not undo the fixing screws of the joints of the pipes on the abs hydraulic control unit, unless control unit replacement is necessary.
Important
If the abs control unit is replaced, this must be supplied with secondary circuit already full of fluid; the control unit must be fitted and the system filled and bleeded as a traditional system.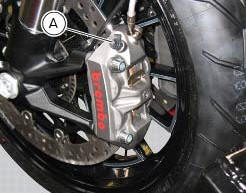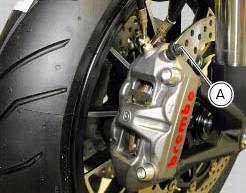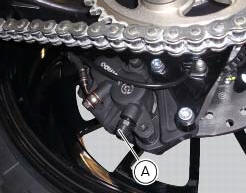 (For front as well as rear sensor) in each case of maintenance that foresees: Replacement or refitting of the wheel Replacement or refitting of the phonic wheel (1) or (2) Replacement or refit ...
Other materials:
Radiator fan relay
Introduction The radiator fans are powered via a specific relay, which is enabled by the engine control unit. Component assembling position A injection relay; b etv relay (throttle valve actuator motor), c radiator fan relay, d engine control unit. Location of right hand fan connecti ...
Removal of the expansion tank
Loosen the clamp (6), open the hose guide (a) and slide the hose (7) out of the radiator. Open clamps (14) and release the hoses that pass through them. Loosen the screws (16). Remove the tank (12) with its hoses (7) and (20) and the support (15). Loosen the clamp (19) to r ...
Rh switch
Red on/off switch. Black engine start button. The switch (1) has three positions: Centre: run off. In this position, the engine cannot be started and all electronic devices are off. Pushed down: on/off. In this position, the system can be turned on (key-on) and off (key-off). Pus ...