Ducati Diavel Service Manual: Refitting the cylinder head assemblies
Warning
To prevent oil leaks past the contact area between cylinders and crankcase, each time the head is removed, cylinder and piston must be removed as well to clean the mating faces of crankcase and cylinder and restore the spoiled gaskets and o-rings and apply again liquid sealant (sect. 9 - 5, Refitting the cylinder/piston assembly).
Before fitting the head, check that the seal is fitted on the mating surface between head and cylinder (sect. 9 - 5, Refitting the cylinder/piston assembly).
Note
When fitting the gasket, side (e) with the stamped code must be in contact with the cylinder head.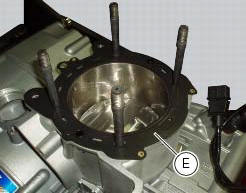 Lower the cylinder head carefully over the studs. Take care not to damage the threads.
Fit the special washers (22) and nuts (21) onto the cylinder head studs.
Tighten the nuts (21) on the stud bolts evenly and gradually in a crosswise pattern using tool 88713.2676 In conjunction with a torque wrench.
Temporary tighten the nuts (21) to a torque of 20 nm; pre-tightening to a torque of 40 nm (min. 38 Nm - max. 48 Nm); one tightening to a torque of 60 nm (min. 57 Nm - max. 63 Nm) (sect. 3 - 3, Engine torque settings).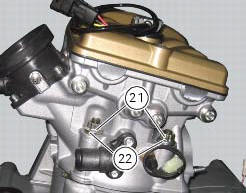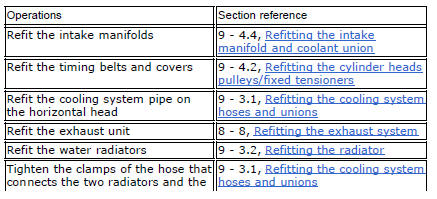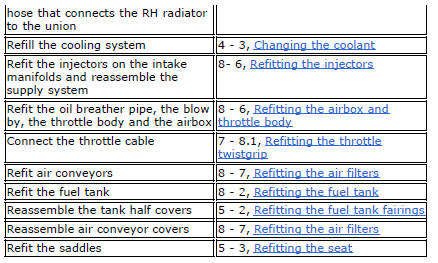 The exhaust side can be identified by the three threaded holes on the flange. The intake side can be identified by the presence of four threaded holes on the flange. All the photos in this ...
Piston Gudgeon pin circlip Gudgeon pin Set of piston rings Cylinder-crankcase gasket Water pump outlet union Hose clip Horizontal cylinder coolant inlet hose Vertical cylinder c ...
Other materials:
Riding safety
The points given below are applicable for every day motorcycle use and shoud be carefully observed for safe and effective vehicle operation. A motorcycle does not provide the impact protection of an automobile, so defensive riding in addition to wearing protective apparel is extremely importa ...
Abs disabled information not displayed
Fault codes Dds: displays a fault code described in the description of the abs system. Dashboard: no fault code displayed. Wiring diagram Checks The abs fault indicator indicates the occurrence of one or more faults in the antilock brake system, or if the system itself has been disable ...
Checking and adjusting the valve clearances
Note For clarity, the figures show the engine removed from the frame. Move the piston of the cylinder being checked to tdc of the power stroke: in this condition, all the valves are closed and the timing shafts come in neutral position and, therefore, free to rotate; check to the valve cl ...