Ducati Diavel Service Manual: Disassembly of the gearchange mechanism
Refer to the exploded view at the beginning of this section for indications on disassembly and renewal of gearchange components.
If the bushing (2) inside the pedal (1) needs replacing, grease the external surface and drive the new bushing into place using a press. The bushing must be seated 2 mm below the outer face of the pedal.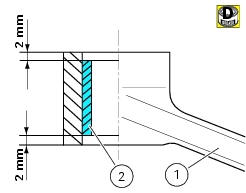 Warning
After working on the gearchange control, check the position of the gearchange pedal.
To adjust the gearchange pedal position, follow the instructions indicated in sec. 4 - 3, Adjusting the position of the gear change and rear brake pedals.
Loosen and remove the pivot screw (4) securing the gearchange pedal (1) and recover the washer (9) and the o-ring Seals (5). Loosen and remove the screw (7) securing the gearchange lever (8 ...
Make sure that the gearchange linkage assembly (6) is installed with the ball joint with a left-hand thread (a) facing the lever (8). Apply the recommended grease to the non-threaded surface of ...
Other materials:
Using a multimeter to check the electrical systems
Introduction This instrument allows you to measure resistance, voltages, and current values. Multimeters can be divided into two basic types: analogue and digital display multimeter. An analogue multimeter has a pointer display. The dial is marked with the scales to be used for measurement of ...
Checking valve clearances
To check the valves clearance, it is necessary to have access to the cylinder head covers and then remove the components listed below. Unscrew the two fixing screws (1) of the cover (2) according to the crankshaft. Fit the tool handgrip 88713.0123 In the holes of the generator cover t ...
Refitting the exhaust system
Refit the heat guard on the manifold (10) by tightening the nuts (9) to a torque of 10 nm +/- 10% (sect. 3 - 3, Frame torque settings). Position the vertical exhaust manifold (22) on the vertical cylinder head with the gasket (23). Tighten the fixing nuts (21) to a torque of 10 nm +/- 1 ...