Ducati Diavel Service Manual: Refitting the cylinder heads pulleys/fixed tensioners
Check that the keyway on the end of the camshaft is in good condition and without burrs.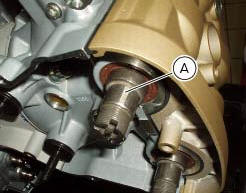 Fit a woodruff key (b) in the keyway of each camshaft.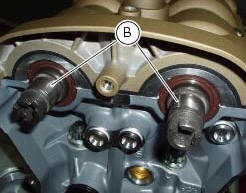 Fit the pulley (11) on the camshaft, inserting the woodruff key in the in the slot (c) in the pulley.
Apply the recommended grease to the threads on the end of the camshaft.
Repeat the procedure on the other camshaft.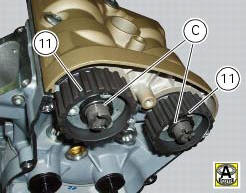 Insert the tool code 88713.1806 Into the pulleys to prevent rotation.
Apply the recommended grease to the mating face of the nut (21).
Fit the nut (21).
Carry out the same operations on the other camshaft.
Important
Always fit new nuts on reassembly.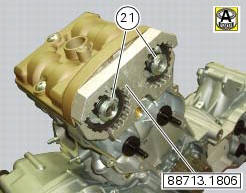 Using the bush supplied with tool with part no. 88713.1806 And a torque wrench, tighten the ring nuts (21) to the specified torque of 71 nm (min. 64 Nm - max. 78 Nm) (sect. 3 - 3, Engine torque settings).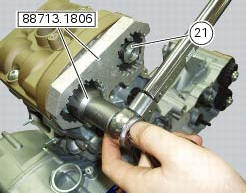 Insert the fixed tensioners (13), with bearings and washers (7), into the cylinder head pins and tighten the nuts (8) to a torque of 25 nm (min. 22 Nm - max. 28 Nm) (sect. 3 - 3, Engine torque settings).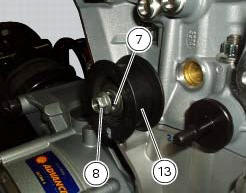 Undo the locking screws (22) of the pulleys, turning them anti-clockwise through 90 +/- 5.
Check that the pulleys have no end float and can rotate freely at all points along the full length of the slots.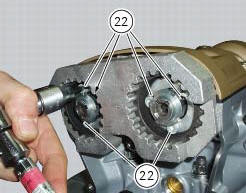 Fit the pulley (11) on the flange (24), aligning the timing mark (d) on the pulley with the timing mark on the (e) on the flange. Install the washer (23) up against the pulley, aligning the timi ...
Rotate the pulleys on the timing belt driveshaft until the timing mark on the outer roller is aligned with the mark on the clutch-side crankcase cover. In this condition, the horizontal cylinder ...
Other materials:
Evaporative emissions canister
Sealing washer Union Hose clip Hose Clamp "T" fitting Hose Support Special screw Rubber mounting Hose Hose clip Evaporative emissions canister Hose Spring Spare parts catalogue Diavel abs evaporative emissions canister Diavel carbon abs evaporative emissions ...
Indicator cons. - Instantaneous fuel consumption
This function indicates the "instantaneous" fuel consumption. The calculation is made considering the quantity of fuel used and the distance travelled during the last second. The datum is expressed in "l / 100" (litres / 100 km); it is possible to change the units of measurement for "consump ...
Legal rights
This warranty gives you specific legal rights, and you may also have other rights which vary from state to state. This warranty is in addition to the ducati limited motorcycle warranty. Additional information Any replacement part that is equivalent in performance and durability may be used in ...