Ducati Diavel Service Manual: Removing the timing belt driveshaft pulleys
Use the tool code 88713.1805 To hold the driving pulley on the engine crankcase against rotation.
Important
If this operation is carried out with the engine installed in the frame, hold the driveshaft pulleys against rotation using the tool code 88713.2011 Mounted on the alternator cover.
Loosen the nut (15) using the socket supplied with the service tool.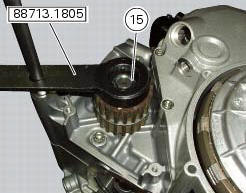 Remove the nut (15), the spacer (20) and the outer pulley (18).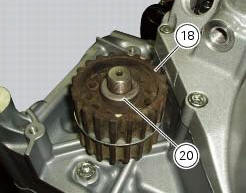 Remove the first woodruff key (16) from the timing belt driveshaft.
Remove the intermediate spacer (19) and the inner pulley (18).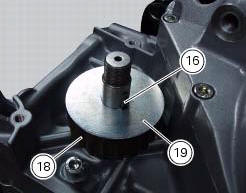 Remove the inner spacer (17) and second woodruff key (16) on the timing belt driveshaft.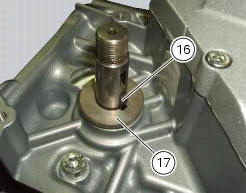 It is now possible to remove the circlip (10) on the driveshaft.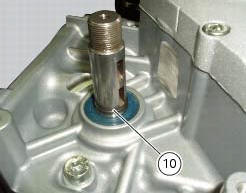 Unscrew and remove the screws (22). Slide off the washer (23). Withdraw the camshaft pulley (11) from the spacer flange (24). ...
To fit the circlip (10) in the driveshaft seat, use the tool code 88713.2834. Install the inner spacer (17) on the driveshaft, taking care to align the notch in the spacer with the slot for the ...
Other materials:
Default function (resetting ducati default parameters)
This function resets the parameters set by ducati for each riding style. To access the function it is necessary to view the "setting" menu page 48, using button (1, fig. 14) ?" " or (2, fig. 14) ?" " select the "riding mode" function and press the r ...
Removal of the engine
In order to remove engine you must first remove a series of other components from the motorcycle. Most of these removal procedures are described in the relative sections of this manual. The following flow chart illustrates the logical sequence in which the parts are to be removed from th ...
Removal of the throttle twistgrip
Peel back the rubber sleeve (a) protecting the throttle control cables. Undo the screws (b) of the throttle grip (6) and open the command. Disconnect the throttle grip cables (10) by unhooking the cable ends (c) from their seats. Remove the throttle twistgrip (6) from the handlebar. ...