Ducati Diavel Service Manual: Removal of the timing gears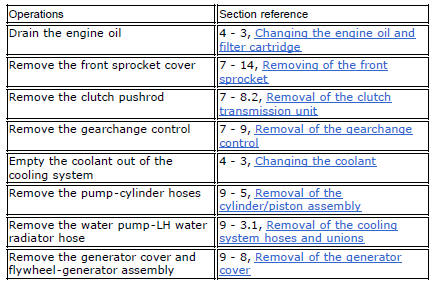 Slide out driving gear (a) of timing gear pair (13) and remove the woodruff key (14).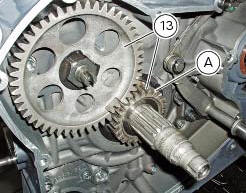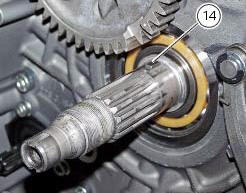 Relieve the staking on the lock washer (12) of the nut (11).
Restrain the driven timing gear by inserting a pin in one of the holes, and unscrew the nut (11).
Remove the nut (11), washer (12), driven timing gear (b) and woodruff key (15) from the timing belt driveshaft shaft.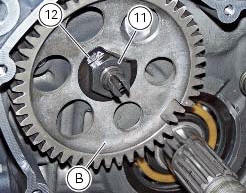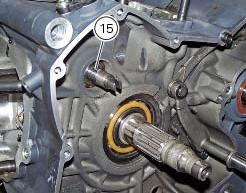 Fit the cap (39) on spring (38) until it engages. Mount ball (40), spring (38) with cap (39), washer (37) and screw (36) on the chain side half-casing by starting the screw into hole (f). Note ...
Before reassembling the removed parts, check timing gears (13) for wear. Change, if necessary. Important The timing gears (13) must always be renewed as a pair. Refitting is the reverse of remova ...
Other materials:
Removal of the brake discs
The front brake discs consist of an inner carrier, which is mounted to the wheel, and an outer rotor. Both parts must be changed together as a pair. Remove the front wheel (sect. 7 - 1, Removal of the front wheel). Undo the retaining screws (5) of the disc to the wheel, remove the disc (7) ...
Operating principle of dtc
The bbs receives the front and rear speed information from the abs over the can. Then, the bbs sends the vehicle speed information to be displayed on the dashboard over the can. If the tangential speed of the rear wheel exceeds the tangential speed of the front wheel by a given percentage, t ...
Reassembly of the control unit
Insert the control unit (4) into the protecting sheath (5) and position it on the airbox. Position the relay supporting bracket (2) by starting and tightening the screws (1) to a torque of 6 nm +/- 10% (sect. 3 - 3, Frame torque settings), and connect the control unit connectors (3). ...