Ducati Diavel Service Manual: Refitting the timing gears
Before reassembling the removed parts, check timing gears (13) for wear. Change, if necessary.
Important
The timing gears (13) must always be renewed as a pair.
Refitting is the reverse of removal.
Warning
When introducing the driven gear (b) check that the tongue (15) is correctly fitted on the timing system shaft, align the gear slot with the tongue matching the driving gear timing mark (a) with the gear (b).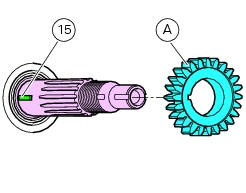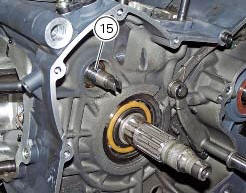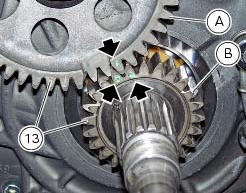 Important
On completion of the refitting operations, check that tab washer (12) is staked against nut (11) in such a way as to prevent the nut from working loose.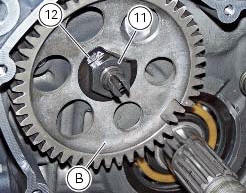 Slide out driving gear (a) of timing gear pair (13) and remove the woodruff key (14). Relieve the staking on the lock washer (12) of the nut (11). Restrain the driven timing gear by ...
Slide the gear pin (21) complete with the gear (19) and washer (20). Warning Pay attention to the washer (20) since it may fall inside the crankcase half. At this point, it is possibl ...
Other materials:
"Parking" function
This function activates the "parkin"h mode. The "parkin"h function activates the front and rear parking lights when the vehicle is turned off so it is visible when parked. The function is activated by pressing the button (2, fig. 14) ?"´" for 3 seconds du ...
Disassembly of rear shock absorber - rocker arm - linkage assembly
Undo the screw (15) and remove the rear shock absorber (11) from the rocker arm (18). Undo Undo the screw (14) and the nut (21) and remove the linkages (10) and (12) from the rocker arm (18). The rocker arm movement is obtained by needle roller bearings (9) rotating on a spacer (1 ...
Removing the front footrest brackets
Note The assembly of the front footrests is described only for the right one (2) but it is the same also for the left one. Place the spring (4) bringing the end (a) onto the footrest (2). Place the footrest (2) in the correct position, by inserting the end (c) of the spring (4) in the hole ...