Ducati Diavel Service Manual: Checks and adjustments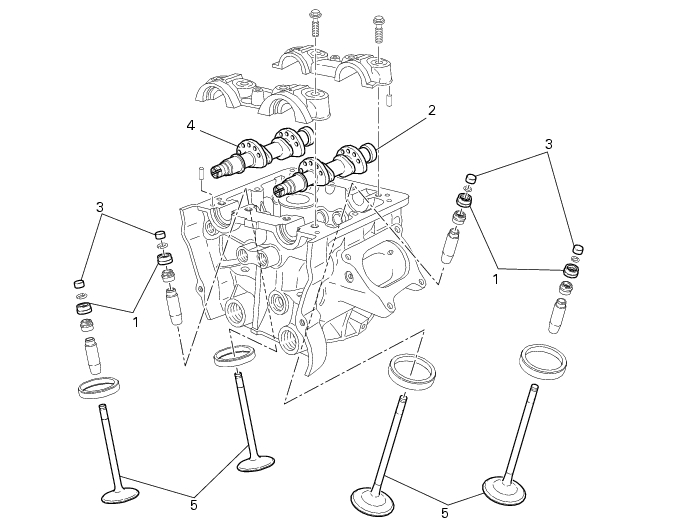 Closing shim
Intake side camshaft
Opening shim
Exhaust side camshaft
Valve
Spare parts catalogue
Diavel abs cylinder head: timing system
Diavel abs vertical cylinder head
Diavel abs horizontal cylinder head
Diavel carbon abs cylinder head: timing system
Diavel carbon abs vertical cylinder head
Diavel carbon abs horizontal cylinder head
Important
Bold reference numbers in this section identify parts not shown in the figures alongside the text, but which can be found in the exploded view diagram.
Note For clarity, the figures show the engine removed from the frame. Move the piston of the cylinder being checked to tdc of the power stroke: in this condition, all the valves are closed and ...
Other materials:
Renewal of the cooling fan
Loosen the electro-fan retaining screws (15) and (17) and remove the electro-fan (18) from the radiator. Carry out the same procedure for the other radiator's electro-fan. On refitting, position the coolant radiator fan (18) as shown on the fan support (16), so that the three fan holes mat ...
Overhaul of the flywheel-alternator assembly
Examine the inner part of alternator rotor (24) for signs of damage. Check that the starter clutch is working properly and that the needle races do not show signs of wear or damage of any kind. If there is any malfunction, remove the whole assembly. Disassembling the generator flywheel U ...
Replacing the high and low beam bulbs
Before replacing a burnt-out bulb, make sure that the new bulb complies with the voltage and wattage specified in the "wiring diagram", page 179. Always test the new bulb before refitting any parts you have removed. Fig. 150 Shows the locations of the low beam bulbs (lo), high beam ...