Ducati Diavel Service Manual: Removing the valves

Raise the rocker arm (3) and remove the opening shim (5) from the valves with a pair of pliers.
Push down the closing rocker arms (16) and (4) and the closing shim (7).
Remove the half rings (6) from the valves with a magnetic screwdriver. Extract the closing shims (7) from the valve using a pair of pliers.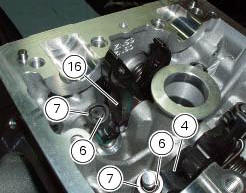 Withdraw the valves (14) and (11) from underside of the cylinder head.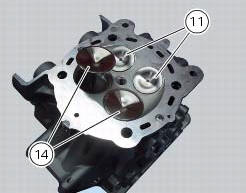 Repeat the same procedure for the other cylinder head.
Using the tool code 88713.2676, Undo the nuts (21) on the cylinder head stud bolts. Remove the cylinder head nuts (21) and special washers (22). Remove the cylinder head assembly by lift ...
With the cylinder head in the condition described in the previous paragraph, remove the rocker arms. Unscrew the eight plugs (12) and recover the seals (15). Using an m6 screw, withdraw ...
Other materials:
Fuel system circuit
The fuel system circuit consists of: An electric pump, driven by the injection relay, which is in turn controlled by the ecu (engine control unit) A fuel filter A pressure regulator Two injectors (one per cylinder, located downstream of throttle valve) The plastic mounting shown in t ...
Beam setting
When checking beam setting, put the motorcycle upright. Tyres should be inflated at the correct pressure and one person should be sitting astride the motorcycle, keeping it at right angles to its longitudinal axis. Place the motorcycle opposite a wall or a screen, 10 meters apart from it, draw ...
Refitting the rear sprocket
Check the cush drive bushes (6) condition and, if necessary, replace them by removing them from the flange. Refitting is the reverse of removal. Apply recommended grease on the rear sprocket flange (5) external diameter. Place the rear sprocket flange (5) on sprocket (17) by inserting it ...